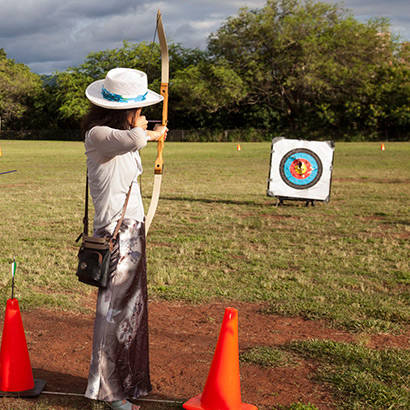 Since 2013, a unique collaboration between NRPA and the Coca-Cola Foundation has supported employing veterans as fitness instructors within community recreation facilities. Park and recreation agencies have utilized the skills and fitness expertise of United States military veterans to help improve the health and well-being in 12 communities across the nation. Veterans have been recruited by these agencies to instruct programs ranging from martial arts to yoga that are free or low-cost for participants. The Coca-Cola Foundation's support is enabling participating veterans to develop their leadership skills while providing community members with opportunities to improve their health.
Response to the Troops for Fitness program has been extremely positive from both veteran instructors and participants. A grandmother and caregiver in Newark described the program and the positive impact it has had on her family, saying, "The program taught my grandkids discipline, the importance of being active and introduced new alternatives to keep them motivated."
To date, 96 veterans have acquired new skills and experience through local Troops for Fitness programming and more than 75,000 participants have been reached, with many reporting an improvement in their overall health.
Park and recreation agencies are a perfect host for programming that offers flexibility for veteran instructors and provides the experience and training that a veteran might need to begin a new career in the health and wellness field. When designing and building a similar program, consider the following five tips from park and recreation agencies that have successfully implemented Troops for Fitness programs:
Connect with Military Veterans in your Community
Why military veterans? Time and time again, we have heard from Troops for Fitness program participants that they are inspired and motivated by their veteran instructors. In return, military veterans bring a new perspective to an activity and put their leadership and teambuilding skills to good use. Increased morale, the discovery of meaningful work and a connection to the community are reasons cited by many veterans as to why they value their work as a Troops for Fitness instructor.
Design and Implement a Successful Program
Veterans often serve as Troops for Fitness instructors because they're eager to share their knowledge, and most cities shape their classes based on the veterans' expertise and match classes to the skills and passion of the veteran instructors. From Boston to Honolulu, Troops for Fitness programs drive attendance by incorporating new, popular activities such as Zumba and stand-up paddle boarding.
A Sampling of Classes Offered:
Water Aerobics, Yoga, Stretching, Meditation LaBlast, Boot Camp, Dancercise, Strength Training, Zumba, Nutrition, Senior Fit, Ballet, Walk and Talk, Tai Chi, Boot Camp, Golf, Gardening, Snowshoeing, Walking and Running Groups, Weight Training, Martial Arts, Roller Blading, Hip Hop Aerobics, Resistance Band Training, Swimming, Stand-up Paddle Boarding, Self Defense
Reaching your Audience — Promoting Troops for Fitness
Many Troops for Fitness programs use cost-efficient marketing tools. Colorful, patriotic flyers distributed at recreation centers and other public facilities will get the word out to patrons who already frequent the facility. In Los Angeles, flyers promoting classes include a photo of the instructor and their name and rank to recognize and celebrate their military service.
The Detroit recreation department shares class information through social media and all promotional literature includes a call to action to "like" the program on Facebook and follow it on Twitter and Instagram. Also, a staff member updates and monitors social media accounts and websites to ensure information is fresh and accurate.
Evaluate and Assess the Program
Regular communication with instructors is important to not only track and collect participation numbers, but also evaluate the overall program offerings and determine which classes are popular and most in-demand. Instructors who are engaged with participants and collect direct feedback can also be incredibly helpful. Some park and recreation agencies have administered very short surveys to participants to seek their input on which aspects were positive, what challenges they faced and any recommendations on how to improve each particular class.
Funding and Sustaining Troops for Fitness
When funding is in place, developing a sustainability plan to continue the program beyond the secured financial support is critical. Successful plans have included involving stakeholders from the community who can help identify potential donors or available grants and perform fundraising activities for the program. Other agencies have found the Troops for Fitness program to be so valuable to the community that they are taking measures to integrate the program into their existing department budget and creating positions specifically for veteran instructors.
Some park and recreation agencies are exploring revenue-sharing programs, wherein instructors would charge relatively low fees for classes and receive a percentage of the revenue, while the park and recreation agency would also retain a percentage.
Park and recreation agencies are a driving force at the center of improving health and wellness in communities. Through the Troops for Fitness program, new opportunities for physical activity and wellness are being created in unique ways that inspire people to be engaged.
Marla Collum is NRPA's Senior Manager of Programs.