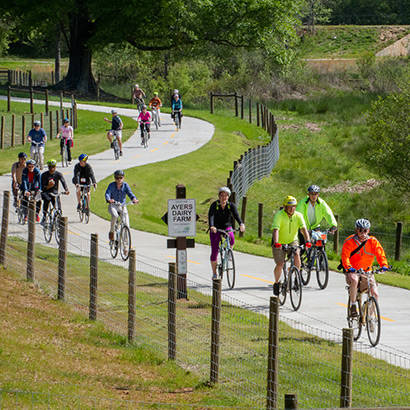 The connection between physical activity and health is well-established. According to the Centers for Disease Control and Prevention (CDC), studies show that physical activity reduces the risk of major health concerns, including strokes, type 2 diabetes and some forms of cancer. The closeness of our ties to our neighbors, the strength of our personal relationships and the resources present in our communities are also all related to health. Recent studies in neuroscience suggest that the presence of social support can even protect against the detrimental effects of chronic stress by promoting healthy brain development and strengthening the immune system.
Parks, because of their ability to foster physical activity and positive connections between people are critical to public health.
Carrollton, Georgia, GreenBelt
The social aspect of good health was brought into focus through research on the GreenBelt, a 16-mile bicycle-pedestrian trail that loops around the city of Carrollton, Georgia. The Friends of Carrollton GreenBelt, LLC, broke ground for the trail in 2011, and it is scheduled for completion at the end of 2016. The goal of the GreenBelt is to provide opportunities for recreation, transportation and increased health outcomes along a conduit that connects parks, businesses and schools.
In fall 2015, a team of researchers from the University of West Georgia began a research project to explore the relationship between physical activity, perceptions of health and use of the GreenBelt. In a mixed-method approach, researchers asked whether and how the presence of the trail changed users' participation in and attitudes toward physical activity. A team of four students handed out surveys at four separate, high-traffic locations on the GreenBelt and received 269 completed surveys. After a preliminary analysis of that data, 14 individuals were interviewed using a targeted set of questions.
Socializing and Exercising
Analysis of the survey data confirmed that the majority of people reported that the GreenBelt makes it easier for them to find time to exercise, allows them to get more exercise than before it was available, increases their enjoyment of doing moderate or vigorous physical activity and leaves them feeling like they are in a better state of health and/or physical ability than they were before they started using the trail. Breaking down the results by gender revealed that women reported those outcomes more frequently than men.
Unexpectedly, researchers also discovered the importance, particularly for women, of the GreenBelt as a place to socialize and be with others. "Socializing with friends" was the second-most important reason cited for going on the GreenBelt; "getting exercise" was the first. Women reported using the trail to socialize with friends significantly more often than men (about 30 percent of women reported this compared to 13 percent of men).
People who visit the GreenBelt with others were significantly more likely to report that it made exercising easier and more enjoyable, allowed them to get more exercise and made them feel healthier than before they started using the trail. Additional interviews further explored the connection between socializing on the trail and attitudes toward health, intentionally focusing on women. Fourteen people, including three men, were interviewed about their health and whether it had changed since they started using the trail, as well as about how and why they use the trail with others.
The interviews confirmed that for these men and women, there is a connection between physical activity, socializing on the trail and better health. Eight (all women) out of the 14 reported being in better health than they were two years prior, and all of them credited the GreenBelt as aiding in that transition. All of the interviewees, whatever their report about their health, said that socializing was an important part of their GreenBelt experience.
These conversations indicate that the GreenBelt supports social relationships in a variety of ways, ranging from sustaining already existing relationships to fostering new connections and a sense of community among fellow trail users.
Access and Safety
The connection between physical activity, human relationships and health, in this case, requires an explicit acknowledgement of the GreenBelt's role. The trail facilitates walking with friends, especially in a city where the lack of sidewalks can make it a challenge to walk anywhere at all and even harder to walk side-by-side with other people. The GreenBelt is so inviting that a number of walking groups have formed to take advantage of it, including several church-based groups that have developed ministries around gathering as a religious community while walking or bicycling on the trail.
A couple caveats are worth noting: Some people want to walk with partners not only to socialize, but also to stay safe. Older people and women of all ages view a buddy as protection from assault, as well as a lifesaver in case of an emergency health event. Out of the 14 people interviewed, five stated that safety is an important motivation in exercising with others on the trail. One stated that because of her concern for her safety, she would be unlikely to exercise if she was by herself. Survey results showed 21 percent of women considered the lack of a walking partner as prohibitive of them using the trail (compared to only 4 percent of men).
Also, the benefits of the trail may not be equally shared by all demographics. Researchers found that the majority of GreenBelt users are white (86 percent), female (54 percent) and have an average household income of between $50,000 and $75,000. These numbers diverge from the population of the county (which, according to the 2015 census, is about 72 percent white, 51 percent female and has a median household income of $45,000). This suggests that some community members are having a harder time accessing the health benefits of the GreenBelt. Targeted interviews with both users and nonusers suggested that time constraints, safe access to the trail and exercise preferences influenced the lower numbers of lower-income and minority trail users. However, at the time of the survey, the trail had not been completed through the lowest-income or more ethnically diverse areas, so these numbers may change over time.
Conclusion and Recommendations
A common perception is that socializing, while valuable for many reasons, is incidental to the health benefits of a park. This study suggests, rather, that the opportunity to be with other people on the trail actually contributes to better self-reported health outcomes. Women reported a higher tendency to socialize on the trail and were also more likely to report that they were in a better state of health than before they began using it. Qualitative interviews confirmed that men and women alike value their time with other people on the trail and give credit to the trail for helping them on their journey to health.
This finding supports research in the social sciences, which proposes that strong relationships with other people contribute to positive health outcomes. This relationship can be playfully presented in the following way:
Common perception: Trails = (physical activity = health) + socializing
Findings: Trails = (physical activity + socializing) = health
The study's findings suggest that facilities designed to promote socializing along trails (such as pocket parks, playgrounds and basketball courts) encourage community building, with benefits not only for health, but also for civic engagement. They also suggest that the issue of safety is a concern to be continuously revisited — implementing best practices in safe-space design and monitoring is critical — and that encouraging trail use across lines of income and ethnicity through targeted public education and appropriate trail amenities will increase a trail's health benefits.
The take-home message is that trails, and parks in general, contribute to health in multiple ways. Trail experiences play a role in combating stress and building strong community relationships, both critical elements in our nation's public health.
Lisa L. Gezon is a Professor of Anthropology and Chair, Department of Anthropology at the University of West Georgia. Emily McKendry-Smith is an Assistant Professor of Sociology, Department of Sociology at the University of West Georgia. Anne Kristen Hunter is an Instructor, Department of Sociology at the University of West Georgia.
References:
Waldinger, Robert, "What Makes a Good Life? Lessons from the Longest Study on Happiness," Ted Talk, Dec 2015
Stein, Rob, "In Reversal, Death Rates Rise For Middle-Aged Whites," NPR Public Health, November 2, 2015
Kodjak, Alison, "Life Expectancy Drops For White Women, Increases For Black Men," NPR Public Health, April 20, 2016
QuickFacts, Carroll County, Georgia, United States Census Bureau
"Physical Activity," Center for Disease Control and Prevention, Healthy Places
Tracy, Tammy & Morris, Hugh (Rails-to-Trails Conservancy) in cooperation with National Park Service, Rivers, Trails, and Conservation Assistance Program, Rail-Trails and Safe Communities: The Experience on 372 Trails, January 1998