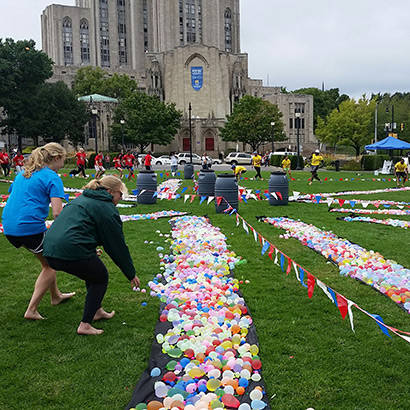 A visit to Pittsburgh's Schenley Plaza gives a colorful glimpse into how lively, diverse, complex and fun the world can be. On any given day, students of all ethnicities, professionals of every stripe and young parents with their kids all weave through the green space that has become a city centerpiece for unique celebrations of culture and the arts. A project of the Pittsburgh Parks Conservancy and the city of Pittsburgh, the 5-acre Schenley Plaza is home to intimate gardens, an expansive Emerald Lawn, a landmark tent and profit-sharing food vendors that feature local produce and a kaleidoscope of tasty fare from around the globe.
One of those vendors — Conflict Kitchen — has brought Schenley Plaza international acclaim. Featuring cuisine from countries with whom the United States is currently in conflict, Conflict Kitchen's goal is to humanize the citizens from these countries through the celebration of their food and culture. Every few months as Conflict Kitchen's food changes, new informational handouts are given to each customer and colorful panels on the building's exterior are switched out with new ones, often featuring the colors from the featured country's flag.
"Conflict Kitchen is a great way to start a conversation about cultures that may be foreign to us and to celebrate our common humanity with food and nature," says Parks Conservancy Senior Manager of Visitor Experiences Shawn Fertitta. Recent Conflict Kitchen events in Schenley Plaza have furthered its cultural outreach and have included outdoor screenings of Iranian, Palestinian and Cuban films, contemporary African music with a communal Congolese dinner and Lunch Rush Hour trivia questions for those standing in line at the popular spot. The fusion of the culinary, educational and cultural aspects of Conflict Kitchen — all in a beautiful park space — has been wildly successful.
Indeed, Schenley Plaza has been the center of public gatherings of support for a wide range of headline issues, from the Standing Rock Sioux Dakota Access Pipeline and Black Lives Matter, to solidarity with France after the 2015 Paris terrorist attacks. The recent Doctors Without Borders "Forced From Home" interactive exhibit recreated portions of a refugee camp in Schenley Plaza, drawing thousands over a five-day period. Escape rafts, camp tents and a heartbreaking interactive component that replicates the decisions refugees must make about what to leave behind made for a powerful and deeply personal encounter. "It was amazing to see attendees of every background, ethnicity and age all bringing their own ideas to the event. It's beautiful to see them arrive at a place of empathy together by the end of the experience," says Fertitta.
Each June, the annual summer concert series with public radio station WYEP kicks off a Summer Music Festival that draws several thousand revelers. Final Fridays concerts on the last Friday of each summer month round out the festival and include nature art, animal track and scat identification, and other fun kid-oriented activities. Schenley Plaza hosts music from around the world for all ages, drawing crowds of listeners to Japanese Daiko drummers, Irish folk music, a cappella ensembles and jazz. A roaming jug band — complete with washboard and homemade instruments — plays impromptu performances throughout the warmer months and organically draws park users to them, often resulting in a crowd clapping along to the Appalachian-influenced tunes.
Adults aren't the only ones grooving to music at Schenley Plaza. The Parks Conservancy and its programming partners have made kid-friendly activities a lynchpin of the space. Five months of the year, the space is host to weekly afternoon-long Kids Day events that include storytelling musicians, face painting, balloon artists and games that get kids up and moving. One event includes a massive 8-foot-tall inflated beach ball that can often be seen rolling across the Emerald Lawn with a crowd of laughing children chasing after it. Costumed characters, free PNC Carousel rides and nature-centric games of memory round out the day, with kids and their adults alike leaving smiling and happy with the new friends they've made.
Innovative event programming for older kids at heart has turned into citywide events that garner significant media coverage for Schenley Plaza and the Parks Conservancy. The Great American Water Balloon Fight — a collaborative effort between Haiti-dedicated nonprofit Team Tassy and Schenley Plaza — was fun at its most visual, with 3,000 people throwing more than 100,000 water balloons at each other. Team-building events before and after the fight saw partner organizations and volunteers filling water balloons, assisting in event setup and taking part in crime scene-like cleanup sweeps for burst balloon bits that ensured the space was left in pristine shape.
Local resources were celebrated at the weekend-long Sand City Spectacular, where 200 tons of special construction grade sand, mined from a pit in western Pennsylvania, was molded into awe-inspiring forms by sand sculptors from seven countries. Pogopalooza brought kids and adults alike from every corner of the city to Schenley Plaza to witness a four-day extravaganza of competitions, performances and gravity-defying pogo-stick demonstrations. Implementing programming that attracts older kids and young-adults is both practical — considering the plaza's location among the collegiate set — and forward-thinking. "Engaging young adults and providing a backdrop for lifelong park memories can eventually lead them to become dedicated park supporters," says Fertitta.
Health and spiritual wellness are another key programming tenet, with a goal of Plaza users feeling deeply connected to the outdoors and the health benefits nature provides. Weekly yoga classes do sun salutations with the majestic Mary Schenley Memorial Fountain, also known as A Song to Nature, in the background, and tai chi draws men and women of all ages, moving in unison on the crisp green Emerald Lawn. Line dancing to country, pop and R&B music is a stress reducer — and just plain fun — for dozens of park users throughout the summer, and impromptu hacky sack games keep college students moving from spring until fall. Programming that continues through the winter months ensures user engagement in any weather and has included an annual menorah lighting ceremony, winter solstice yoga, seasonal holiday lights and organized snowball fights. Fully enclosable sides on the plaza's central tent allow shelter from rain and snow while extending its use into the cooler weather.
These celebrations occur in the heart of Pittsburgh's education row, a lively 2-mile stretch of Forbes Avenue in the Oakland area of the city that is home to nearly 50,000 University of Pittsburgh, Carlow University and Carnegie Mellon University students. They are intertwined with residents of old-school neighborhoods and colonial-style columned homes, bordered on one end by 456-acre Schenley Park and, on the other, by the city's richly historic Hill District.
The realization of Schenley Plaza as a community-gathering spot and grand entrance into the larger Schenley Park fulfills the original intention for the space. The plot of land at the northwestern tip of the park that is now Schenley Plaza was originally a gully and was filled in the early 1900s. In its place, a tree-lined green space and a gorgeous statue fountain memorial honoring Mary Schenley, the heiress and philanthropist who donated the land in 1889, was constructed. A Song to Nature by Lincoln penny designer Victor David Brenner became a popular landmark, with both students and community neighbors gathering at the perimeters of the water to talk, study or rest.
By the 1930s, however, the burgeoning population of the city and the accompanying need for additional parking spaces resulted in the majority of the site being paved with asphalt. The once green space was now an enormous parking lot, an eyesore in the heart of this cultural district, and remained so for the rest of the century. In the mid-2000s, the Pittsburgh Parks Conservancy began a design process with members of the community, city government and the design firm Sasaki Associates, with a goal of creating a vibrant park space for the modern age. "Sasaki's aim for the design for Schenley Plaza was one that unifies the various land uses that surround the plaza and creates a green space where people from the nearby neighborhood and the city can enjoy both the pleasures of daily life and periodic special events," says Sasaki Senior Associate Susannah Ross.
"We designed a space that accommodates celebrations large and small, whether in small groups in one of the intimate garden spaces, groups of hundreds in the oval plaza under a swooping tent or in crowds of thousands on the Emerald Lawn." The plaza stitches together Schenley Park and the Oakland neighborhood urban fabric, inviting people to engage with the landscape and with each other. Green infrastructure elements that keep stormwater from the expansive lawn out of the city's sewage system — instead of channeling it back into a nearby stream system — were a major part of the design. Finally, after years of input, design consolation and construction, the new Schenley Plaza opened in 2006 to great acclaim.
The challenge of filling Schenley Plaza with programming was met with open arms by the Parks Conservancy. The several hundred events that take place there each year are thoughtfully chosen for their creativity, inclusiveness and ability to both appeal to the almost 500,000 people who pass through the space and to attract new park goers. Carefully considered programming benefits the plaza's on-site partners through increased foot traffic, which can range from additional dozens to thousands. "Diverse programming is crucial, not only to serving our wonderfully wide range of plaza users, but also for bringing new business to our partner vendors," says Fertitta.
From quiet, romantic walks to crowds of thousands dancing to a band on a summer night, this green space was designed for community interactions of all sizes. After celebrating its 10th anniversary this year, Schenley Plaza is gearing up for the next decade of bringing diverse communities together. What's the secret to keeping enthused about programming meaningful times for a beloved green space? "Start with good design. Know your audience and have income generators from event rentals and vendor partners, and creative, targeted marketing and communication," says Fertitta. "And, most importantly, wake up every day and believe that people are going to have a fun and memorable time in your space."
Scott Roller is Senior Manager, Communications and Creative at the Pittsburgh Parks Conservancy .