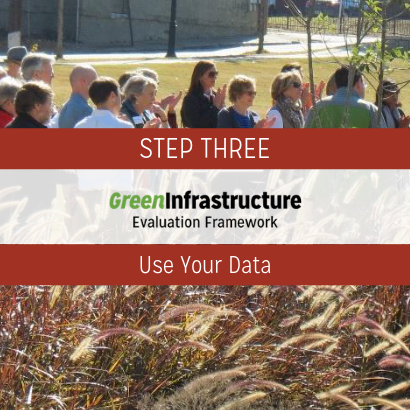 Open or Close

Using Data Inside Your Organization

Before using data to highlight your efforts, it is crucial to:

• Manage data to ensure easy analysis;
• Analyze that data with an eye towards pulling out trends, weaknesses and bright spots; and,
• Create a culture of continuous improvement around GI, so you can boost the knowledge and skills of your organization, and deliver even better GI projects in the future.

Use these tips and resources to plan ahead so that when you do collect data, you are prepared to analyze and use it immediately.

Tips for GI Data Management and Analysis

This Framework does not delve deeply into the technicalities of data analysis across environmental and other benefit areas. NRPA focuses instead on key tips for drawing insights from your data, regardless of the size, scope or other details of your project.

Tip #1: Create a simple data "home base" within your organization's online file system:

• Before you start collecting data, create a data home-base for the information you collect. Staying organized from the beginning will allow you to spend less time managing the information and more time using it.

• Create a straightforward file system. For example, set up one folder for each of the four benefits covered in this Framework (environmental, health, social and economic).

• In this hub, you will have:

- All data collection instruments based on your measurement plan (e.g., survey instruments, SOPARC docs, Citizen Science guides for volunteers, etc.).

- All the data that you collect (e.g., completed paper surveys, e-survey exported data, completed SOPARC records, downloaded Citizen Science data).

Tip #2: Create a Microsoft Excel database for managing and analyzing your data:

• Data management can seem overwhelming, but for your purposes, Excel (or any similar product like Google Docs) should be sufficient.

• Create one tab for each kind of benefits data: environmental, health, social, economic.

• Put pre- and post-construction data within each benefit tab for easier analysis.

• Enter data into the database as soon as you collect it.

Tip #3: Base your conclusions and decision making on data trends, not outliers:

• Be careful when one or two pieces of data, positive or negative, do not fit the larger picture painted by your whole body of evidence. Human nature urges us to respond to an outlier, but sound conclusions are based on a lot of data pointing in the same direction.

• For example, you may receive one or two survey comments that your GI feature did not encourage physical activity in the community. But if the remaining 96 percent of respondents claim that it did, and other data sources support that view (SOPARC or accelerometer data), you can safely draw a conclusion that your project had a positive effect in this area.

• The respondent's outlier perceptions may still be useful, but they should not affect your conclusions about the project's impact.

Tip #4: Take steps to maintain data quality, but also make the data easily accessible:

• Send an email to all parties involved in your project about data management and analysis,

• Appoint one or two staff as data "gatekeepers" so that you limit the number of people uploading and updating information.

• Make your data available to all stakeholders, to keep everyone interested in all the information that you are collecting on your project's impact.

Open or Close

Creating a Culture of Continuous Improvement

Once you have created your data management system and have begun analyzing your data, create a culture of continuous improvement by enhancing your colleagues' GI skills, and ensuring that you perform better for future projects.

1. Hold Evaluation Conversations Every Time You Collect Data:

• As stated in Step 2, collect evaluation data at four points: before construction; six months after construction; 12 months after construction; and annually over the long-term.

• Hold evaluation conversations within 60 days of data collection, so you can review the latest data collected and openly discuss weaknesses and bright spots.

• End these meetings by making an action plan.

• Hold brief evaluation check-ins every few months thereafter to maintain momentum and ensure action is being taken.

2. Connect All Conversations to Your Desired Benefits:

• Does your organization, and the community you serve, have priority goals for your project (e.g., making a walking trail more accessible for residents)?

• While it is beneficial to touch on the full range of data collected, always carve-out the most time to cover your priority benefits during evaluation discussions.

3. Identify Bright Spots and Spread Them:

• By the time you start collecting data six months post-construction, you likely will already see some initial positive impacts (e.g. the community attending GI information sessions or exercising around the project site).

• What, if anything, might you do with the finished GI project to maintain or even build upon these bright spots? And how will you ensure that your future GI work achieves similar results?

4. Identify Weaknesses and Improve Upon Them:

• You also may see signs that your project is not achieving some benefits to the extent you anticipated (e.g., lower-than-expected count of pollinators one year after construction).

• Talk openly about potential actions to address these issues. Solutions may involve engaging the public more effectively in the project, making construction improvements to the feature(s) post-construction or taking other actions.

• Paramount when discussing these issues is ensuring conversations are detailed and specific, open and direct, and constructive (not punitive). Keeping conversations solution-focused and avoiding blame will give you and your team the best chance at implementing more impactful GI projects in the future.

• Make a plan to measure weaknesses again in the near future (within a few months) to see if you have made progress in these areas.

Open or Close

Using Data Outside Your Organization

Local government organizations often do not engage effectively with the public about their work, especially with celebrating successes. But communicating your project's impact on the community is another aspect that is vital to its long-term success.

Key Reasons to Share Your Impact

• Builds trust and transparency among the community by sharing data on environmental, health, social and economic outcomes.

• Enhances the community's GI knowledge and awareness.

• Boosts your organization's profile in the local community as well as among your local government and future funders.

• Raises the profile of your project, which hopefully boosts GI use throughout the community.

Focus Your Message

• The starting point for your external messaging should be the same as the internal: Go back to your North Star — what did you originally set out to accomplish with your project?

• Keep your information simple, clear and digestible within minutes (or even seconds). Emphasize visuals and only use the most essential text to get your points across.

• Stress important points to your audiences: What are their priorities with respect to the park and your GI project? Then, decide how best to reach them with your message. Use a variety of formats/avenues that are resource-conscious and best suit your various audiences.

Decide What Messaging to Create

For the local community, potential funders and the general public:

• Short videos
• Social media posts
• One-page visuals
• Infographics

For local government officials:

• One- to two-page memos
• PowerPoint presentations

This resource from the nonprofit connector Wired Impact supplies several tips for how organizations can communicate their results to key stakeholders. While the tips are not GI-specific, it covers common threads — the need for a simple and clear impact message and a design that quickly translates data.

Create Your Results Communication Plan

While it may be some time before you collect sufficient impact data on your project, begin developing a communication plan to share the results as you start your project, not as you finish it. Treat this plan with the same importance as you treat your budget and timeline. If you do not message the impact of your work, you will be shortchanging your project.

Answer the following questions:

• Who are your main audiences?

• What are their priorities?

• Given their priorities, what are the most important results to communicate?

• What format/avenue would be most appropriate to reach them?

• How much money and staff time can you dedicate to messaging?

• Take a look at your measurement plan — when will results be available for you to report?

• Based on the timing of the above, when does it make sense to roll out your messaging?