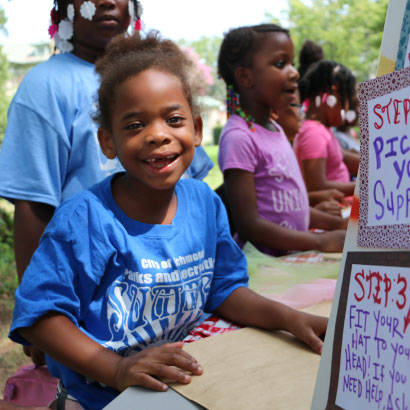 Communities across the country rely on safe and quality out-of-school time programming offered through local parks and recreation. These same communities also rely on the support of key federal funding streams like the 21st Century Community Learning Center program and the Summer Food Service Program.
That's why we're inviting you to experience what a typical child experiences in a summer camp or out-of-school time program offered by local parks and recreation. You'll see firsthand how federal funding is critical to fostering healthier youth through out-of-school time (and have a blast while doing it!). This event is a kick-off to July — the nation's official Park and Recreation Month.
Thursday, June 29
11 a.m. – 1 p.m.
Garfield Park, First St SE & F St SE, Washington, DC 20003
(three blocks south of Capitol South metro- look for NRPA yard signs!)

What to Expect
Lunch
NRPA will host a free lunch that a typical child would receive as part of their out-of-school time program. Many meals served by park and recreation agencies are through the USDA's Summer and Afterschool Meal Programs.
Activities
Take a break and have some fun! Thanks to our members, the DC Department of Parks and Recreation, the Maryland National-Capitol Park and Planning Commission, and the Caroline County (MD) Recreation and Parks Department, we'll be offering several activities for you to try out. These are activities children would participate in throughout summer camp and during out-of-school time programs. These programs help children grow, learn and stay healthy.
Animals
Arts & Crafts
Commit to Health Nutrition Education Activities
Dance
Discgolf
Mobile Fitness Van
Skate Mobile
Soccer
Specialty Outreach Programs
Wildlife Explorers Nature Discovery Program
Yoga
Youth Employment Programs
Zumba
Swag
NRPA and its member partners will be offering small giveaways like sunglasses and more!
Other Activities Happening that Week
You are also invited to join us for a Congressional Hill Briefing on Tuesday, June 27. Local experts will speak about using 21st Century Community Learning Center funding, the Summer Food Service Program, and federal investments in local summer youth employment programs to help prevent summer learning loss and ensure all students have the opportunity to be safe, healthy, and productively engaged during the summer months.
Tuesday, June 27
1:30 p.m. – 3:00 pm
Dirksen Senate Office Building, Room G11
Washington, DC
Refreshments will be served.
See flyer for more information.

Co-Sponsors
We're proud to partner with likeminded organizations to highlight the important work of out-of-school time programming.
The nation's leading voice for afterschool, the Afterschool Alliance is the only organization dedicated to raising awareness of the importance of afterschool programs and advocating for more afterschool investments. The Afterschool Alliance works with more than 25,000 afterschool program partners and allied organization to ensure that all youth have access to affordable, quality afterschool, summer and before school programs.
The Food Research & Action Center (FRAC) is the leading national nonprofit organization working to eradicate poverty-related hunger and undernutrition in the United States. Learn more at FRAC.org.
National Afterschool Association
NAA is the membership association for professionals who work with children and youth in diverse school and community-based settings to provide a wide variety of extended learning opportunities and care during out-of-school hours.
National Summer Learning Association
The National Summer Learning Association (NSLA) is the only national nonprofit focused on closing the achievement gap by increasing summer learning opportunities for all youth. NSLA offers expertise and support for programs and communities and advocates for summer learning as a solution for equity and excellence in education.
To build lifelong healthy eaters by making kid-inspired, chef-crafted food accessible to all.