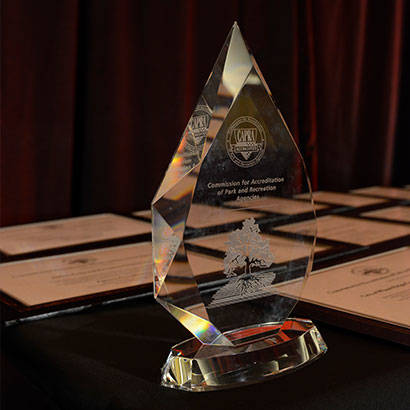 Accreditation is a distinguished mark of excellence that affords external recognition of an organization's commitment to quality and improvement. Accreditation has two fundamental purposes; to assure quality and to assure improvement. The National Recreation and Park Association administratively sponsors two distinct accreditation programs.
Academic Accreditation
The Council on Accreditation of Parks, Recreation, Tourism and Related Professions (COAPRT) accredits baccalaureate programs in parks, recreation, tourism, sport management, event management, therapeutic recreation, and leisure studies, within the United States and its territories, Canada, and Mexico. COAPRT is the only accreditation of recreation, park resources and leisure services curricula recognized by the Council for Higher Education Accreditation.
Agency Accreditation
The Commission for Accreditation of Park and Recreation Agencies (CAPRA) provides quality assurance and quality improvement of accredited park and recreation agencies throughout the United States. CAPRA is the only national accreditation of park and recreation agencies, and is a valuable measure of an agency's overall quality of operation, management, and service to the community.
Want to know more about how accreditation can benefit your agency? Click here to check out great videos on the value of accreditation.
For questions or more information on Academic Accreditation, please email us at COAPRT@nrpa.org
For questions or further information on Agency Accreditation, please email us at CAPRA@nrpa.org