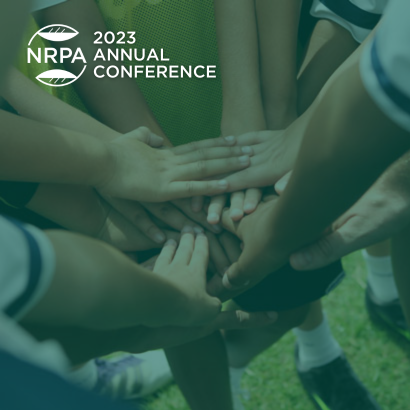 We know that sports provide a pathway for youth to develop healthy habits, build relationships with peers and adults, and thrive in school and their future careers. However, not all kids have access to these opportunities. Only 37 percent of children ages 6-12 played team sports on a regular basis in 2021, according to the most recent data available from the Sports & Fitness Industry Association (SFIA). That's down from 38 percent in 2019 and 2020.
As one of the largest providers of youth sports in the nation, park and recreation professionals are catalysts for advancing youth sports equity in their communities. That's why access to youth sports is taking center stage at the 2023 NRPA Annual Conference, taking place October 10-12 in Dallas. During the Day Two Panel – The Ball Is in Our Court: Leveraging the Power of Parks and Recreation to Advance Youth Sports Equity – attendees will learn from the experts about:
How the power of parks and recreation creates positive outcomes for youth
The social, emotional, physical and mental health benefits of youth sports
How park and recreation professionals can create more inclusive programs and spaces so all youth can play
This learning opportunity will feature diverse contributors who each have unique perspectives on youth sports equity:
Moderator: Anthony-Paul (AP) Diaz (he/him)
Diaz is the superintendent of Seattle Parks and Recreation, where he manages more than 500 parks, shorelines and coastal lands and seascapes. He champions parks and open spaces by advancing equity, innovation and climate action. Diaz is committed to equipping others for success and amplifying the narrative that parks are essential civic infrastructure — as important as bridges and highways to the fabric and foundation of a great society.

Cal Dobbs (he/they)
Dobbs is a queer transgender ultramarathoner and long-distance hiker. Dobbs is the first known transgender person to complete the Triple Crown of hiking. This year, they completed a run across America from California to Florida to fight for the inclusion of transgender people in sports and access to gender-affirming healthcare.

Jason Sacks (he/him)
Sacks is the president of Positive Coaching Alliance, a national nonprofit that works to change the culture of youth sports so that every child, regardless of social or economic circumstance, has access to a positive youth sports experience.

Kari Miller (she/her)
As Move United's director of people and culture, Miller leads the company's diversity, equity and inclusion initiatives and programs. The former U.S. Army Sergeant lost both of her legs in 1999. Since then, she's won multiple medals as part of the U.S. Paralympic Team. Miller also has created and led multiple adaptive programs and events.

Lily Sunarjardi (she/her)
Sunarjardi is a 10-year-old girl who has been playing basketball since she was 6. Recreational sports programs have been an important part of her childhood and have helped her build confidence in all aspects of life. She looks forward to sharing how they have impacted her life.
NRPA looks forward to leveraging conversations at conference to support the development of our Youth Sports Framework, an evidence-based roadmap that will guide park and recreation professionals seeking to advance impactful, sustainable solutions that build sports equity and increase participation in youth sports.
In addition to the panel, this year's conference schedule includes many education sessions focused on youth sports equity and increasing access to sports. If you haven't registered for the 2023 NRPA Annual Conference, there's still time! Register today to secure your spot. By coming together and learning from inspirational educational sessions like the Day Two Panel, we can truly build places where community grows. We look forward to seeing you in Dallas!
Nelly Musselman (he/him) is a program specialist at NRPA.
Teresa Morrissey (she/her) is a senior program manager of health at NRPA.