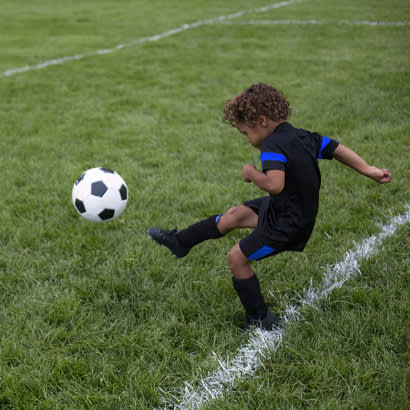 When kids have access to play sports, we all win!
Research shows that when children play sports, they increase their chances of growing up healthy, developing confidence, building skills like teamwork and respect, creating friendships, and are more likely to succeed in school and in future careers. Youth sports, and the mentors and volunteers who impact a child's youth sports experience, play a major role in youth development and shape the type of community members kids grow up to be.
Unfortunately, significant disparities exist in who has access to and benefits from these life-changing sports opportunities. Gaps continue to widen for certain groups, such as youth of color, girls, LGBTQ+ youth, youth from low-income homes and youth with disabilities. To help increase play equity, NRPA and Musco Lighting teamed up to create the Youth Sports Equity Grant Program. With support from Musco Lighting, NRPA is providing funding and in-kind support to local park and recreation agencies to increase opportunities for physical activity that are inclusive and welcoming to all. Agencies will receive $20,000 in grant funding to put toward increasing equitable access to youth sports and an in-kind donation of Musco Lighting infrastructure, such as lighting, a mini pitch or MuscoVision.
Here are a few examples of how the grantees plan to use this funding and in-kind donations:
Grantee: Town of Garner Parks, Recreation and Cultural Resources Department
Location: Garner, North Carolina
Garner plans to leverage grant funding to expand the services it provides to better support youth of all cognitive abilities and mobilities and neurodivergent youth. In 2021, Town of Garner Parks, Recreation and Cultural Resources Department identified a gap in recreational facilities and programming available for youth with disabilities. As shared in Garner's grant application, "As a first step towards addressing the programming gap, in 2022 we initiated a partnership with the Spirit League, an adaptive basketball program for ages 12+. Building on the partnership with Spirit League, we will purchase adaptive sports equipment to initiate futsal, volleyball, and boccia programs for youth with disabilities. We will provide demos and clinics to develop interest and skills in these sports."
The community also plans to expand access to climbing by installing adaptive holds on an outdoor climbing wall for independent play. Another key component of the project is the hiring of an inclusion specialist dedicated to educating full-time staff on how to adapt current programs and create new programs to engage youth of all abilities. Garner is receiving a donation of Musco Lighting to support extending play times at Yeargan Park — which Garner will charge a fee for — ultimately using the revenue to offset the cost of park and recreation-sponsored sports.
Grantee: Genesee County Parks and Recreation Commission
Location: Flint, Michigan
The Flint City Council recently allocated $5 million in American Rescue Plan Act (ARPA) funding for park improvements, a huge step for a city that does not have a park and recreation department and relies on volunteers to manage parks and public spaces. "City Council has allocated $2 million to projects that City administration deemed as important, and this project will focus on gathering data from youth to inform the use of the remaining $3 million," Genesee County shared in their application.
Community partners came together in the past couple of years to participate in a Youth Recreation Scan, which was funded by the CS Mott Foundation, and identified a lack of youth voice reflected in city programs. Using grant funds, Genesee County will provide $1,000 regrants to community sports providers, who in turn will be required to collect end-of-season surveys from youth participating in programs. This data will be used to drive decisions about the use of the ARPA funds. Genesee County is receiving a donated mini pitch from Musco Lighting, which will encourage reactivation in a neighborhood park that has experienced historic disinvestment since the Flint Water Crisis.
Grantee: City of Imperial Beach Parks, Recreation and Community Services Department
Location: Imperial Beach, California
Founded in 2021, Imperial Beach Parks, Recreation and Community Services Department is a new department that believes it's important to hear from community members (including youth!) when building recreation and sports programs for the city. Imperial Beach will use funds to build a youth advisory committee, including youth in the decisions for sports offerings and empower those youth with personal development and leadership training. This committee will also play an important role in creating convenient and free/low-cost recreation opportunities city-wide.
In addition to the youth advisory committee, Imperial Beach will also use funds to develop a marketing strategy for its sports programs. "As we market the free and low-cost programs, we will first start with stock images that are diverse and inclusive. As programs grow, and with permission from youth and their parents, it will be a part of the marketing plans and goals for us to show images of the youth in Imperial Beach participating in sports activities so they can see themselves and others that they relate to." Imperial Beach is also receiving donated lighting from Musco, which will expand play times for kids, especially in the winter months.
Grantee: City of Pasco Recreation Services
Location: Pasco, Washington
A high percentage of the population of Pasco, Washington, is Spanish-speaking and of Hispanic descent, which is reflected in their youth sports participants. The city's youth sports equity efforts thus far have led to good participation across gender, but they still see some disparities in participation among low-income youth and Hispanic youth — especially Hispanic girls.
Through this grant, Pasco hopes to take a deeper look at how their sports and recreational programs are affecting the youth they serve by hiring a DEI consultant to conduct a youth sports equity assessment for the agency. The assessment will help the department determine changes that will more effectively push them toward the goal of improved youth sports equity. "The City of Pasco Recreation Services has always sought to be welcoming in its programming and to do all we can to promote participation by all," the agency shared in its application. Pasco will receive donated lighting from Musco to expand play times for local youth.
Grantee: City of Pico Rivera
Location: Pico Rivera, California
To increase youth sports participation, the City of Pico Rivera is creating the PlayPass Sports Equity Grant Program, which will promote parks and recreation as the provider of high-quality, equitable sports opportunities for youth. The program will ensure that low-income youth have access to fun, safe and inclusive sports opportunities, providing participating youth with $150 annually to participate in a city-run sport of their choice. This offering will help participants cover sports expenses, which is a major barrier to entry for youth sports nationwide.
"The current budget in our program can cover access for 66 youths. With an additional $20,000 in grant funding, we can increase access from 66 to 199 youth recipients – allowing three times as many underrepresented youths of color, genders and low income to access to sport," the city shared. Pico Rivera will receive a donated mini pitch, which will be installed at Rio Hondo Park, increasing access to soccer programs and pickup play.
Wondering what you can do to increase access to sports in your community? Follow along as we update you on how these projects progress and be inspired to take action in your youth sports system to create opportunities that support healthy development!
Nelson Musselman (he/him) is an NRPA program specialist.