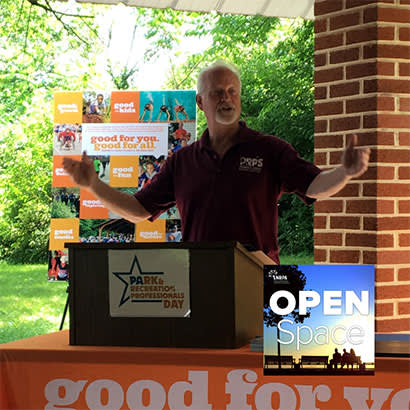 Every day, in communities across the country, the people of parks and recreation are providing essential services and making their communities better places to live, work and play. This July, for Park and Recreation Month, NRPA will be redefining the field of parks and recreation as a vital necessity by sharing how park and recreation professionals are frontline staff, confronting our most pressing health, environmental and social challenges — even now, amid the coronavirus disease 2019 (COVID-19) pandemic, park and recreation professionals are selflessly making sure the people in their communities are safe, healthy and have access to necessary services.
One way the Pennsylvania Recreation & Park Society (PRPS) has been celebrating this selfless work is through Park and Recreation Professionals Day, which will take place this year on July 17 – during Park and Recreation Month. This day, much like the entire month of July, celebrates the people who work tirelessly behind the scenes to provide the high-quality programs and facilities we desire and expect in our parks and public spaces. We're thrilled to be joined on today's episode by Tim Herd, CEO of PRPS, to learn more about the day, and how you can celebrate at your own agency this July.
Tim talks with us about why he thinks park and recreation professionals and the work they do are so essential, and we discuss our plans to celebrate that work through a nationwide Park and Recreation Professionals Day this July as part of our Park and Recreation Month festivities. Tim tells us about how the idea of a designated day to lift up the people who are working so hard in their communities came to him in the most appropriate setting – his local park!
He also shares an informative document that helps solidify why park and recreation professionals deserve to be celebrated. It's called the "Recreation & Parks' Internet of Things" and it highlights "how parks and recreation contribute to everything important" in a community.
And while we're all excited about Park and Recreation Month and Park and Recreation Professionals Day coming up soon, due to the COVID-19 pandemic, the celebrations may look different this year. We discuss how PRPS is adjusting its celebration and some of the things planned for July – including simply thanking a park and recreation professional for the important work they do.
Tim also shares some tips for an agency that may want to plan its own Park and Recreation Professionals Day this summer — his number one tip? Save the date.
Tune in to the full episode to hear why we can't wait to celebrate YOU this July. And be sure to sign up on our Park and Recreation Month webpage to receive updates on all things Park and Recreation Month, as NRPA will be providing resources for Park and Recreation Professionals Day and the entire month very soon — so you'll have everything you need to promote the celebration in your community.
Listen to the episode for the full story.