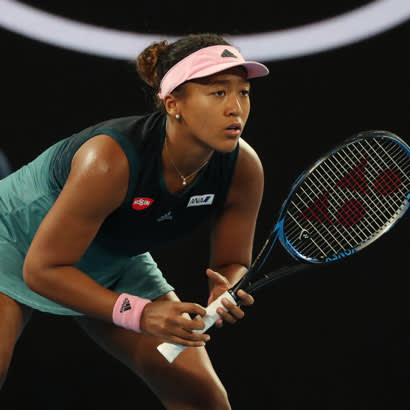 Pictured: Naomi Osaka at the 2019 Australian Open. Photo by Zhukovsky, courtesy of Dreamstime.
Naomi Osaka, one of the world's greatest tennis players, was thrust into the spotlight this past weekend during the French Open — not for her 125 mph serve, but for her decision to withdraw from the competition to prioritize her mental health and well-being.
Osaka, who is currently ranked as the No. 2 player in the world, withdrew from participating in the tournament after declining to attend press conferences she said could trigger her anxiety. Osaka shared in a statement that she has experienced battles with depression and anxiety the past several years, following her 2018 U.S. Open win in which the then 20-year-old stood before a crowd of boos after upsetting favorite Serena Williams in a controversial match. The decision from Osaka was met with support from many, but sharp criticism from others. While the event has ignited debate within the professional sports realm and across the media, it has also shined a spotlight on the pervasive stigma associated with mental health in sports, in the workplace and in our day-to-day lives.
Before the onset of the COVID-19 pandemic, one in five U.S. adults were experiencing mental illness, and one in six U.S. youth aged 6-17 were experiencing a mental health disorder each year. According to Mental Health America, 9.7 percent of youth have severe depression, with that rate highest among youth who identify as more than one race (12.4 percent). Mental health struggles significantly impact LGBTQ+ youth, with The Trevor Project reporting in 2019 that 39 percent of LGBTQ+ youth (including 54 percent transgender and non-binary youth) seriously considered attempting suicide in the past year, and 71 percent of LGBTQ+ youth reported feeling sad or hopeless at least two weeks in the past year. Early reports from the COVID-19 pandemic have indicated a substantial increase in the number of adults and youth reporting negative impacts on their mental health and well-being. In fact, a Kaiser Family Foundation poll in July 2020 found that 4 in 10 adults in the U.S. reported symptoms of anxiety and/or depressive disorder, up from 1 in 10 adults who reported these symptoms in 2019.
Despite the above statistics, individuals battling mental health conditions and symptoms must also constantly battle stigma — the negative attitudes and beliefs directed toward an individual or group of people with certain characteristics, traits or circumstances. Stigma not only impacts society's ability to address and treat addiction and mental health conditions, but when stigma is present, those suffering may be reluctant to seek help, become bullied or victimized, experience feelings of fear, shame and guilt, and/or face a lack of understanding from friends, family members, or social and professional networks.
The criticism that ensued after Naomi Osaka's courageous and deeply personal decision this past weekend provides a great example of how stigma is ever-present in conversations centered on mental health. She was fined, publicly called out by event organizers, dragged on social media where she experienced name-calling and comparisons to other athletes – and most disturbing, the authenticity of her mental health struggles was questioned. The world watched the scene unfold, including individuals with mental health struggles of their own. If Osaka opted out of the competition for a sprained ankle, a pulled muscle or another physical injury, it is hard to imagine the reaction would have been the same. So why do we question, shame and point a finger when the ailment revolves around mental health?
In the sports world, this example is all too familiar for athletes at all levels, particularly women athletes, who have long struggled with the pressure, anxiety, stress, discrimination, public scrutiny, body shaming and burnout that often accompanies participation in competitive sports. A study published in 2011 determined that 20 percent of women athletes had at least one mental health disorder, compared to 15 percent of men. Women were 1.3 times more likely to be diagnosed with at least one condition and 56 percent more likely to have suffered from an anxiety disorder in their lifetime. Sports and physical activity are supposed to provide positive mental health benefits — they have been shown to reduce stress and anxiety, improve social-emotional skills and increase self-esteem. But when sports programs put competition above well-being, the result can be detrimental.
Given the state of mental health across the U.S. pre-pandemic and the rising rates of mental health conditions during COVID-19, it is time for a robust re-evaluation of how we — as individuals, as a nation and as a global community — value, invest in and discuss mental health. One action we can all take is to address the stigma around mental health. Last year, NRPA released the Parks and Recreation: Addressing Stigma Associated with Substance Use and Mental Health Disorders resource. The resource outlines different constructs and types of stigma that exist, while providing nine practical recommendations for how to break down stigma.
Rather than being victimized, Naomi Osaka, and others making courageous decisions for themselves and their well-being, should be taken at face value, applauded and supported. Osaka's decision provides an opportunity to openly discuss mental health, educate ourselves and others, promote equality between mental and physical health, practice compassion, and choose empowerment over shame. Although we've made progress in building awareness and understanding around mental health, the events of this past weekend (which ironically occurred in the immediate days following Mental Health Awareness Month), illustrate that there is still much work to be done. The more we listen, empathize and lift up conversations about mental health, the more we can normalize it and ensure that the 1 in 5 people struggling with mental illness can access the treatment, resources and support they deserve.
Allison Colman (she/her) is NRPA's Director of Health.
Teresa Morrissey (she/her) is an NRPA Program Manager.