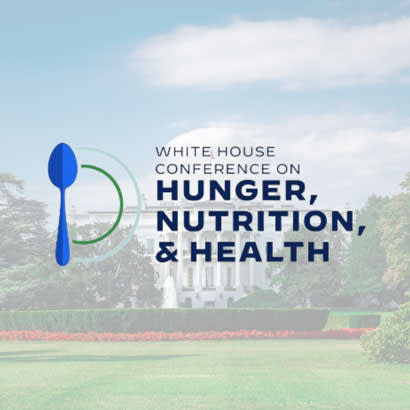 On Wednesday, September 28, the White House will convene a national Conference on Hunger, Health, and Nutrition. The Biden-Harris Administration has set a goal of ending hunger and reducing diet-related disease by increasing healthy eating and physical activity in the U.S. by 2030. At the conference, the Administration will announce a bold national strategy that outlines steps the federal government and other stakeholders will take to achieve this goal.
In the days before, during, and after the Conference, the White House is encouraging partners to host their own events nationwide. NRPA urges our members to rise up and demonstrate how park and recreation agencies show up for communities every day to support their health and well-being.
Ways to Get Involved
Below are some ideas on the types of events you could host to raise awareness and drive action in partnership with the conference. By hosting a satellite event, you are championing the change we need to end hunger and increase healthy eating and physical activity.
1. Host a Watch Party
The conference will be live-streamed to ensure that everyone can participate. We encourage organizations and communities to convene and watch the Conference together and to encourage participation in the Conference in their communities.
2. Host a Discussion
Hosting a town hall, panel discussion or informal conversation promotes engagement and can foster insightful discussions and interest. These events can be virtual, in person, or a combination of both.
3. Host a Day of Service
We want to take action to achieve these ambitious goals and improve the health of all Americans. You and your community can do this by hosting a day of service. Suggested activities are what you as park and recreation professionals are doing every day and is an exciting way to invite the community to see your daily work in action. Consider:
Volunteering to conduct SNAP, WIC, Medicaid enrollment and advocacy, summer meal outreach, and/or help build a playground.
Hosting a fundraiser to support a local anti-hunger organization.
Volunteering at a food bank or collecting food donations through a food drive.
Inviting a local chef or dietitian to present a cooking demonstration at a local farmer's market.
Partnering with a local farm and sponsoring a mobile produce market.
4. Have a Fun or Physical Activity Event
One of the conference pillars is to Support Physical Activity for All. Fun runs and other community outdoor events are great ways to amplify this message.
5. Host an Out-of-School Time Event
Include students as part of the conversation by (1) participating in the Conference livestream and (2) discussing healthy eating and physical activity in your out-of-school time programs.
No need to reinvent the wheel – if you already have an event planned, such as a farmers' market or a youth sports day, you can leverage that event in support of the conference. Reframe your social media posts and/or signage around the White House Conference and our shared goals. Please join us in spreading the word by tweeting @NRPA_news and @WhiteHouse with the hashtags #EndHungerNow and #PowerOfParks with your message.
Asia Simms (she/her) is NRPA's Park Champion Initiative Specialist Intern. Dan McCarthy (he/him) is NRPA's Advocacy Manager