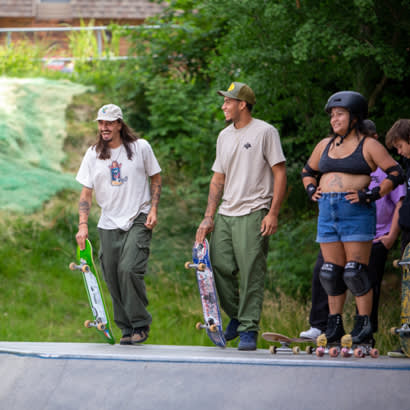 Pictured: Skateboarders at the grand opening of Tuttle Park Skatepark. Photo by Jeffrey Tilley, courtesy of Columbus Recreation and Parks.
It is officially Park and Recreation Month, and it already has been so exciting to see how park and recreation agencies and communities across the country have been celebrating. We're not even halfway through the month and we have already seen so many amazing stories highlighting how parks and recreation truly is "Where Community Grows."
On today's episode, I wanted to highlight one of the wonderful submissions from our annual Park and Recreation Month Cover Contest. One of the photos that was submitted pictured a few smiling skateboarders enjoying time together at the Tuttle Park Skatepark in Columbus, Ohio.
If you've listened to the show before, you know I have a love of skateboarding and the community that it builds, so of course I wanted to talk with the folks who submitted this photo.
I'm excited to welcome two members of the Columbus Recreation and Parks Department staff to the show today: Kerry Francis, chief of communications, and Kelly Messer, PE, a project manager. We discuss not only more about this skatepark but also all the good work happening in Columbus.
Tune in to our full conversation below to learn:
How Columbus Recreation and Parks contributes to the health, well-being and overall quality of life for everyone in the Columbus community
How an entire community of support led to the completion of the Tuttle Park Skatepark project
How Columbus Recreation and Parks is creating high-quality, safe and inclusive spaces for the community
How Columbus Recreation and Parks is ensuring that everyone in the community can benefit from the experiences, spaces and programs it provides, and much more!
Listen to the episode for the full story.
You can also listen to Open Space Radio on Spotify, Stitcher, iHeartRadio and other podcast services.

This episode of Open Space Radio is sponsored by:

Are your parks and recreation operations running as smoothly as you want? If not, maybe it's time to re-evaluate your management software. ACTIVENet streamlines operations for everyone involved with a host of easy-to-use, scalable solutions, including the Connect app, which allows staff to take ACTIVENet on the go. Save time, energy, and money with ACTIVENet, so you can get back to making a difference in your community. Learn more at www.activenetwork.com/nrpa