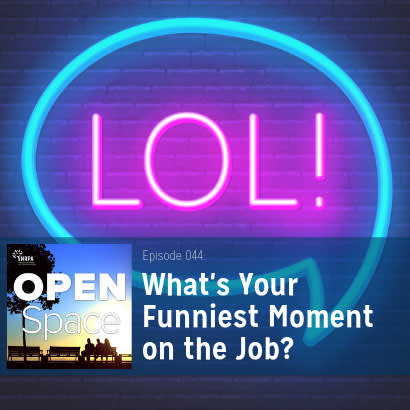 It's no secret that working in parks and recreation comes with its share of unpredictable, funny moments. You must really be ready for anything — and many times these moments provide those deeply-satisfying laughs you can feel throughout your entire body (whether it's instantly or one of those "this will be funny when we look back on it" moments).
We've been asking you to share your funniest moments while on the job with us on our Instagram page, and the responses we've received are hilarious (we promise we've been laughing with you all). On this episode of Open Space Radio, we had the opportunity to chat with a few folks to get the full story behind their responses to our Instagram post.
Today's guests are:
Eryn Mann, Marketing Coordinator, Henrico County Recreation and Parks (Virginia)
Eryn shares about the time a traveling cat circus inquired about using one of their venues for a performance. Sadly, the request was not approved, but the Acro-Cats (and the Rock Cats — an all-cat rock band) appear to still be touring.
Eryn also shared a couple other funny moments with us — the time she was chased by a cow during a farm animal Halloween photo shoot (the cow has been known to chase other people, too) and the time she found a tree in one of their parks fitted with custom-made pants. Fun fact: Eryn's only been with the department for two years — we have a feeling she's in for some more funny moments!
Nicole DiCicco, CPSI, Assistant Director, Dover Parks & Recreation (Massachusetts)
Nicole shares about the time there was an accident in a very large tube slide (think poo emoji). According to Nicole, "there isn't anything as funny as seeing two grown men having to squeeze into a (very stinky) tube slide AND one having to hold the other by the ankles to be able to reach the smeared mess to clean up!"
The mess was from the very top of the slide all the way to the bottom of what Nicole describes as "the tallest playground." This will most likely be a legendary story in Dover for years to come.
Stephanie Harden, Center Director, Warren Road Community Center and T. Garrett Gymnasium (Georgia)
Stephanie shares about the time that one of her summer campers was answering her phone. Although presumably embarrassing, Stephanie couldn't help but laugh when she walked over to her phone to find the summer camper say, "No worries, Miss Stephanie — I answered all your calls, took messages and told everyone you were in the restroom!"
As you can imagine, Augusta residents got a good laugh — and according to Stephanie, everyone knows this summer camper and thought it was the funniest thing ever. You never really know what you're going to get working with kids!
And finally, we couldn't let a "funniest moments" podcast end without sharing a few of our own funniest moments while on the job. Roxanne reflects on the time a person in a gorilla costume was chasing a person in a banana costume through the Starbucks that she worked at, and Cort talks about the time he was called "Curt Johnson" repeatedly on a live interview (Cort Jones, Curt Johnson, same thing).
We also reminisce on a hilarious video that NRPA staff put together back in 2015 to celebrate Park and Recreation Month!
Listen to the episode for the full story.