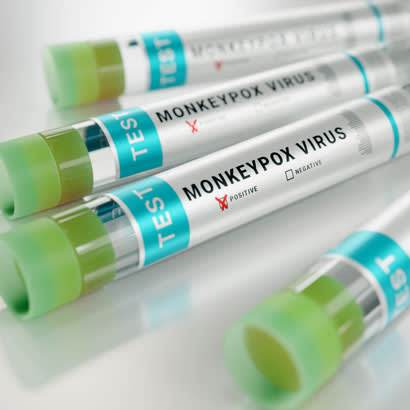 Due to a recent rise in cases, the World Health Organization declared the spreading monkeypox outbreak a global public health emergency on Saturday, July 23. The threat is highest in Europe at this time, with more than 80 percent of the confirmed infections reported worldwide in 2022. However, the Centers for Disease Control and Prevention (CDC) is tracking the outbreak in the United States, which is currently experiencing 3,500 cases.
What Is Monkeypox?
According to CDC, monkeypox is a rare disease caused by infection with the monkeypox virus. The monkeypox virus is part of the same family of viruses as the variola virus, the virus that causes smallpox. Monkeypox symptoms are similar to smallpox symptoms, but milder, and monkeypox is rarely fatal. And, although you may be noticing it in the news more recently, monkeypox is not a new disease and the CDC has previous experience responding to outbreaks.
How Is It Spread?
The monkeypox virus is spreading mostly through close, intimate contact with someone who has monkeypox, but can also be spread through touching items (such as clothing, linens or surfaces) that previously touched the infectious rash or body fluids. It's also possible for people to get monkeypox from infected animals.
Monkeypox can spread from the time symptoms start until the rash has fully healed and a fresh layer of skin has formed. The illness typically lasts 2-4 weeks. People who do not have monkeypox symptoms cannot spread the virus to others.
Symptoms include fever, headache, muscle aches and backache, swollen lymph nodes, chills, exhaustion, and a rash that can look like pimples or blisters appearing on the face, inside the mouth or on other parts of the body.
How Can I Prevent Monkeypox?
Fortunately, there are steps you can take to prevent getting monkeypox. The CDC recommends avoiding close, skin-to-skin contact with people who have a rash, not touching linens or bedding of a person with monkeypox and washing your hands often.
CDC also recommends vaccination for people who have been exposed to monkeypox and people who are at higher risk of being exposed to monkeypox. At this time, vaccine access is relatively limited and is being prioritized for people who are at higher risk of being infected with monkeypox or who have come into contact with the virus and been identified by public health officials.
What Should Park and Recreation Professionals Do?
At this time, park and recreation professionals should follow the CDC guidance for prevention and home disinfection. Regular cleaning and disinfection practices should be used on surfaces (similar to COVID-19 cleaning protocols) including tables, countertops, door handles, etc.
Poxviruses — like monkeypox — can survive in linens and clothing and on environmental surfaces for an extended period of time, so using an EPA-registered disinfectant and following the directions on how to use the disinfectant is key.
CDC provides additional guidance, including an order of cleaning and disinfecting measures to take with specific contaminated surfaces (laundry, hard surfaces, etc.) if someone in your home has monkeypox or you've come into contact with the virus.
Park and recreation professionals can also support communications encouraging education, prevention and awareness of the monkeypox virus. CDC has compiled communication resources that can be shared with community members, including graphics, resources, videos and publications. In addition, CDC provides guidance for reducing stigma through communications and education about the virus.
NRPA regularly monitors emerging guidance from CDC and will keep park and recreation professionals abreast of any changes or new, relevant guidance.
Allison Colman (she/her) is NRPA's director of health.