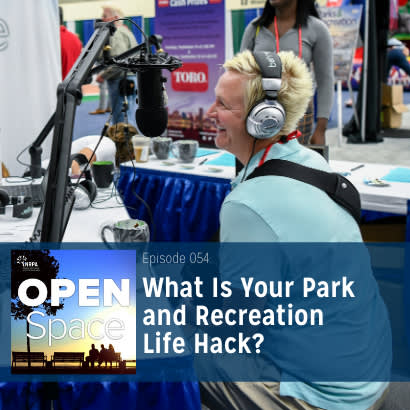 A life hack is a clever tip or technique for accomplishing a familiar task more easily and efficiently. And, with so many park and recreation professionals having to wear multiple hats — sometimes in the course of a single day — anything that can efficiently simplify a task and save time is usually welcomed pretty warmly.
On this episode of Open Space Radio, we're looking back at one of the questions that we asked attendees at the 2019 NRPA Annual Conference in Baltimore, Maryland: What is your park and recreation life hack?
With everything from duct tape and zip ties, to quotes from Michael Jordan, to simply finding better ways to get know your community, you're sure to find some inspiration when you hear the life hacks of these people who were brave enough to get on the mic with us:
Elena Messenger, Therapeutic Recreation Programmer, Stafford County Parks and Recreation
Gabby Anglin, Recreation Coordinator, Victoria Parks and Recreation
Aaron Davis, Director, Mebane Recreation and Parks
Kristy Lintz, Recreation Program Specialist, Rapid City Parks and Recreation
Kasey Mahony, Cadillac District Supervisor, Michigan Department of Natural Resources
Lisa Mansfield, Recreation Supervisor, City of Findlay Parks & Recreation
Nicole Moore, Recreation Programmer II, Stafford County Parks and Recreation
David Heath, Parks and Recreation Superintendent, Bullhead City
Do you have your own park and recreation life hack that you'd like to share with us? Send us an email and we'll send you some stickers!
As a special bonus for listening to this episode, you can get a discount on NRPA Live — the virtual version of the NRPA Annual Conference. By using the coupon code OPENSPACE, you'll get 15 percent off the 18 full education session options that are available now!
Listen to the episode for the full story.