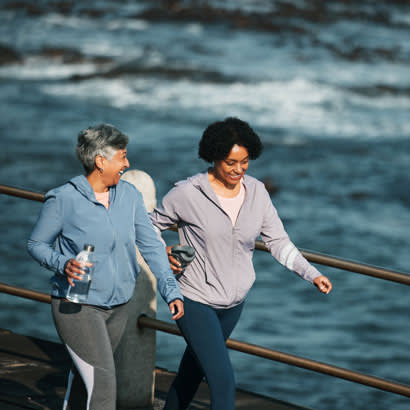 Hi! I am so glad you asked! You are familiar with a typical grant — money given to a group or person to support a specific activity or initiative. At NRPA, we have several grant programs that include funds for everything from farmers markets to park improvement projects.
Yep. Got that one. We all like money!
Grants can sometimes even include in-kind services and products like playground structures or lawn care equipment.
Those grants are great, too! Definitely helps us in the long run!
However, you may be less familiar with a training grant. These are grants that do not always provide funds, but instead provide training, coaching and technical assistance. Since 2016, NRPA has been offering instructor training grants for evidenced-based physical activity programs and we just opened applications for another round!
Sounds interesting, but I'm still not sure exactly what that means.
Essentially, these are grants that allow you or someone at your agency to become trained and certified to teach different types of physical activity programs. You may be familiar with Zumba® instructors, for example, who get trained to teach that particular type of class.
So, what kinds of classes will you be offering instructor training grants for?
With the support of the Centers for Disease Control and Prevention (CDC), we are offering instructor training grants for arthritis-appropriate, evidence-based interventions (AAEBIs).
AAEB…what?
Essentially, these are physical activity classes that are proven to help people with arthritis symptoms but can actually benefit anyone! The programs we are offering instructor training grants for are:
Active Living Every Day (ALED): a behavior-change 12-week program that teaches typically physically inactive people the skills necessary to overcome barriers to physical activity engagement.
EnhanceFitness (EF): a behavior-change 16-week program for those at any level of fitness that motivates individuals to stay active and live independently.
Fit & Strong! (F&S!): a multi-component physical activity and behavior-change 8 or 12-week program that teaches physically inactive adults with joint pain and stiffness and/or mobility issues how to engage in safe and effective exercise.
Tai Chi for Arthritis: a program for people with mild, moderate and severe joint and back pain. It is especially appropriate for adults who have a higher risk of falling.
Walk With Ease (WWE): a multi-component, low-impact 6-week walking program that teaches people how to safely and comfortably incorporate physical activity into their everyday lifestyle.
I can think of some people in my community who can benefit from something like that!
They definitely can! And what's great about these programs is that participants note benefits well beyond physical fitness. Barbara Johnson from Mooresville, North Carolina had this to say about her participants:
"My participants expressed feeling better about themselves mentally, socially and emotionally. They took ownership of their Walk With Ease community and leaned on each other for care and support… The social benefits of the grant gave the participants a place to belong and feel valued. The participants were able to share their stories with each other, on NRPA Connect and in the Mooresville community. We celebrated their accomplishments with luncheons, videos and certificates."
That sounds great. But what is the time commitment like? A new program sounds a little overwhelming right now.
Best to hear it from some former grantees. Here's what Tori Boschert at Calvert County Government Department of Parks & Recreation (Maryland) had to say about it:
"During one of the most chaotic summers our department had ever experienced, I was tasked with co-leading the Active Living Every Day program. Amidst the challenges of staffing summer camps, dealing with COVID outbreaks, and juggling my usual responsibilities, I initially wondered how we could pull it off. Surprisingly, we not only managed to do so, but also turned it into one of the most rewarding experiences I've ever been a part of. Engaging with our elderly participants, meeting them on their terms, and helping them progress has been incredibly fulfilling on a personal level. It also shed light on the struggles this demographic faces in our fast-paced and ever-changing society."
Julia Demarais from Prince George's County, Maryland, had this to say when asked if these programs were worth her time:
"Yes. Fit & Strong has filled a gap in our department's program offerings — free strength training and health education for seniors. We are able to offer the program for free with our department's support and that has allowed many folks to attend who would have been able to otherwise."
Those are definitely inspiring stories! Have former grantees seen any other benefits?
Yes! Julia also shared this about the instructor training grant:
"As an agency we were able to grow our other programs as a result of offering Fit & Strong! and Walk With Ease. We had a new captive audience that was excited about getting involved in other classes and programs the department offers. The participants from our evidence-based classes now participate in LOTS of other programming ranging from our senior walking club 300, arts classes, volunteer opportunities, nutrition workshops and more.
Ok, I'm sold. What is the application process like?
Easy. Head to our application here for the Supporting Healthy Aging Through Parks and Recreation 3.0 (SHAPR 3.0) grant. There you will choose the programs that seem best for your community. Each awarded applicant can receive up to two instructor training grants and program materials (e.g., participant books and program-specific equipment). Additionally, communities with a high social vulnerability index (SVI) may be eligible to receive a monetary award to support the sustainability of these programs beyond the project period.
Furthermore, if eligible, applicants may apply for membership into a health equity-focused Community of Practice (CoP). This opportunity is ideal for organizations that have sustained programming for older adults. The purpose of the CoP is for park and recreation professionals to engage with each other, industry experts and health equity experts to learn how to offer these programs in a way that ensures all people have access to the benefits of parks and recreation – especially historically disenfranchised populations, such as Black, Indigenous, Latino, Asian American, low-income and rural communities. Participants will work together to learn how to apply NRPA's Elevating Health Equity Through Parks and Recreation: A Framework for Action, and will strategize what it means to embark on systems change that centers equity in their community. Members selected into the CoP may also be awarded a small financial grant.
Anything else I should know before I dive in?
These programs can make a huge impact on those who participate in them. You can check out this video to hear inspiring stories for yourself, but if you don't have time, at least see what Katherine from Tualatin, Oregon had to say about the Active Living Every Day program:
"For me, the program has changed everything. I was experiencing a lot of joint pain and more limited mobility. When I saw the curriculum, I thought this might be very helpful for me, and it certainly has been. But the difference between where I started and where I am now, I would encourage anyone to take the class. It changed everything for me."
Applications are due October 23, 2023.
Colleen Pittard (she/her) is a partnership manager at NRPA.
*This project is supported by the Centers for Disease Control and Prevention (CDC) of the U.S. Department of Health and Human Services (HHS) as part of a financial assistance award totaling $460,551 with 100 percent funded by CDC/HHS. The contents are those of the author(s) and do not necessarily represent the official views of, nor an endorsement, by CDC/HHS, or the U.S. Government.