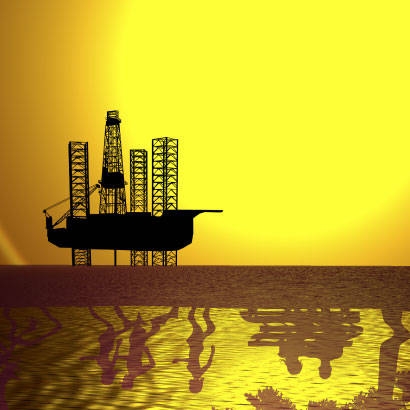 The Land and Water Conservation Fund (LWCF) is funded through revenues generated from oil and gas exploration in federal waters along the Outer Continental Shelf (OCS) of the Gulf of Mexico. Therefore, LWCF is NOT funded at the expense of the individual taxpayer, but rather through lease and production fees paid by energy companies. These fees (in the billions of dollars) are collected annually, but are NOT guaranteed to the LWCF, which is authorized to receive up to $900 million each year in support of its broad portfolio of federal and state land acquisition and conservation initiatives, including State Assistance.
Congress must still act each year to determine exactly how much funding is "appropriated" to the various LWCF programs. For example, 2016 saw total LWCF dollars reach $450 million with State Assistance receiving a major increase to $110 million. Both amounts represent the highest funding levels in more than a decade.
What Is GOMESA?
While the LWCF Act is more than 50 years old, the Gulf of Mexico Energy Security Act or "GOMESA" was passed a little over 10 years ago in 2006. This law was enacted in the aftermath of Hurricane Katrina and, in return for opening up additional parts of the Gulf of Mexico to energy exploration and production, allows four states — Louisiana, Alabama, Mississippi and Texas — to share significant oil and gas revenues produced in the federal waters located off their coasts.
In an effort to make the proposed law less of a parochial "Gulf Coast" initiative, the measure included a mandate that a portion of the overall revenues go to the State Assistance program so each state could benefit from these new OCS funds.
It's important to note that the GOMESA revenues identified for LWCF State Assistance are GUARANTEED and not subject to annual congressional approval and designation (appropriation). For the first 10 years, the law included tight "caps" on the annual payments to State Assistance, a move that facilitated bipartisan passage by lowering the measure's impact on the federal deficit. So, although GOMESA has helped fund the State Assistance program since its adoption in 2006, the amounts during the first decade (Phase I) of the program have been miniscule — for instance, a total of only $85,972 was contributed in 2016. However, with the start of Phase II, the restrictive caps have come off and State Assistance will begin seeing millions of dollars in mandatory funding coming into the program each year.
In fact, State Assistance will receive up to $125 million in mandatory funding annually. Compare that to the $110 million appropriated by Congress in 2016 and 2017 (highest amount in decades) and you can see why receiving up to $125 million in guaranteed funding each year can have a major, and lasting, impact when it's apportioned out to every state and territory in support of close-to-home outdoor recreation and conservation. A stream of dependable funding will allow states to actually plan how best to use their anticipated State Assistance dollars.
While the maximum amount of annual funding that State Assistance may receive is $125 million, the Bureau of Ocean Energy Management (BOEM) — the federal agency in charge of administering annual OCS revenues — reports that GOMESA is NOT expected to generate that maximum level of funding for at least two or three years. The latest estimates project approximately $88 million in mandatory GOMESA funding will go to the State Assistance program this year. This means that amount will be included in the state-by-state apportionment in FY18.
This amount, alone, is twice as much as the pre-2016 average of about $40 million being appropriated by Congress.
Targeting a small portion of GOMESA State Assistance dollars to enhance park infrastructure in larger urban communities
NRPA continues to champion efforts to see more federal support for public outdoor recreation and open space in the areas where four-out-of-five of us now live — metropolitan areas. In fact, the National Park Service's moribund Urban Park and Recreation Recovery (UPARR) competitive grant program has not received funding in over a decade. In response, Congress created a pilot "competitive grant" as a subset of, and a complement to, the State Assistance Program in 2014. NRPA worked with the National Park Service to develop the original guidelines for what is now known as the Outdoor Recreation Legacy Partnership (ORLP) program. Congress approved $12 million for the ORLP program in both FY16 and again in FY17.
At this time, ORLP is the only federal funding program specifically for urban community parks. This is why we're working with a bipartisan group of representatives to introduce new legislation to designate a small portion (20 percent) of the annual GOMESA funding for State Assistance to the ORLP program, as well as make the program permanent.
By guaranteeing a source of funding for the ORLP, the legislation bill ensures that this competitive grant program will continue to identify and highlight new ways of providing opportunities for expanding outdoor recreation in areas with great need, as well as promoting the development of new or enhanced partnerships for outdoor recreation in urban communities across the nation.
We expect the Outdoor Recreation Legacy Partnership Act to be introduced prior to July. Please stay tuned as we'll be asking for you to take action by contacting your representatives and urging them to co-sponsor and support it.
Ways to learn more
There is much more to share about GOMESA and what it means for LWCF State Assistance.
For more information on the basics of GOMESA, visit the BOEM website.
Learn more about federal policy and legislative issues impacting parks and recreation.