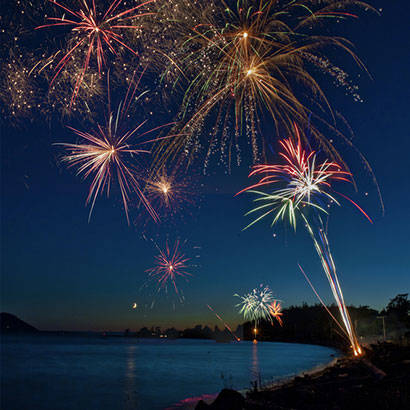 The final firework has been shot into the air, the parades have ended and the barbeques have been extinguished. And with that, another Fourth of July celebration has passed. But the summer is only beginning as Americans look to their local park and recreation agency to be the leading source of fun and exciting summertime events.
Six in seven Americans have attended and/or will attend outdoor summer events in their community this summer. This is the finding of a new poll of 1,017 Americans ages 18+ conducted for the National Recreation and Park Association. The poll queried respondents on their plans to attend a variety of summertime events offered by park and recreation agencies throughout the United States.
The most widely cited outdoor activities Americans look forward to attending this summer are holiday celebrations, such as festivities surrounding the just completed Independence Day holiday. Fifty-six percent of survey respondents report that they have attended or will attend at least one holiday celebration this summer. Beyond holiday celebrations, survey respondents indicate that they have attended or will attend farmers markets (46 percent), outdoor movies/concerts (34 percent), carnivals/fairs (33 percent), food festivals (31 percent), and arts/crafts fairs (25 percent) during the warm weather season.
Favorite summertime events vary by the surveyed respondents' age, sex and household formation. For example, Fourth of July and other holiday celebrations are the summertime outdoor activity that will be most attended by Millennials (66 percent) and Gen Xers (58 percent). But the percentage of Baby Boomers planning to attend a holiday celebration drops to "only" 50 percent.
Instead, the outdoor event that Boomers are most likely to attend this summer is a farmers market (54 percent). The percentages of Millennials and Gen Xers planning on the same are 38 percent and 45 percent, respectively. In fact, farmers markets were the only instance of the nine outdoor events in which Baby Boomers were more likely to attend than Millennials. On the other hand, adults between the ages of 18 and 35 indicated a greater likelihood than those between the ages of 51 and 70 to attend outdoor movies/concerts, carnivals/fairs, food festivals, and cultural festivals this summer.
Similarly, households with children are more likely than those that are childless to partake in a holiday celebration, catch an outdoor movie or concert, attend a carnival or fair, or discover a new culinary delight at a food fair. Females are more likely to attend farmers markets or arts/crafts fairs than are males.
So, what are the two things that the poll results tell us?
First, most Americans will be keeping active this summer and will be doing so at a number of events conducted by local park and recreation agencies. The work that we do in our communities resonates strongly with the public, making our neighborhoods and towns into vibrant communities. What a great message to receive as July is Park and Recreation Month and a chance to remind our communities of the vital work that we do as leaders in health and wellness, conservation and social equity.
Second, the programming offered by park and recreation agencies and demanded by our constituents can be as diverse as the populations we serve. As a quick review of these poll results find, single set programming offerings will not meet the needs and desires of the various audiences you serve. To get a better handle of how to optimally program events in your community, it is critical to understand who they are and what they desire. This can include conducting surveys and opening up various channels for community engagement.
Further, it can be helpful to understand just who is in the community. That's where NRPA's Facility Market Reports can help. These customized reports give you detailed Census Bureau and market research data about the people who live near your agency's park and recreation facilities. Combining this report with other research from NRPA and your agency can help you deliver programming and resources that best meet the needs of your community.
Kevin Roth is NRPA's Vice President of Research.