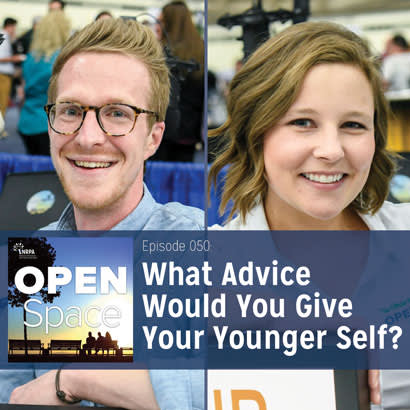 Today's episode of Open Space Radio is a special one because it is officially our 50th episode! It was hard to imagine having 50 episodes when we launched two years ago, but we're here and we're thriving. Open Space Radio has consistently been in the Apple charts for non-profit podcasts, and often in the top ten!
The timing of our 50th episode is pretty appropriate. We just got back from the 2019 NRPA Annual Conference in Baltimore, and it was amazing to meet so many of our listeners and chat with those of you who have never even heard of the show. We were thrilled to get some of you on the mic, and we're looking forward to sharing the great answers to six questions we asked people who stopped by the Open Space Radio booth.
So, thank you to everyone who visited us and thank you for listening — whether this is your 50th episode or your first — we really appreciate you tuning in.
And since it's our 50th episode and we've been reflecting on when we first started, we thought it would be appropriate to use this episode to explore one of the questions we asked while we were in Baltimore: What piece of advice would you give to your younger self?
Tune in to the show below to hear the sage advice from the following people who were brave enough to get on the mic with us:
Stacie Anaya, Director, City of Lewisville Parks and Recreation Department
Anthony Iracki, MS, CPRP, Recreation Supervisor, Whitefish Bay Recreation
Brissa Ibarra, California State University, East Bay
Beeg Johnson, Recreation Director, City of Eagle Parks, Pathways & Recreation
Tony Phillips, Director, City of South Fulton Parks and Recreation
Donna Lindenmeier, Associate Professor of Recreation and Leisure Studies, Oklahoma State University
Gabriel Passos, Aquatics Recreation Programmer II, Stafford County Parks and Recreation
Jenny Cox, Conservation Program Manager, NRPA
Tom Ellis, CPRP, Parks Superintendent, Oro Valley Parks and Recreation
And of course, we couldn't have a 50th episode celebration without sharing some of our own advice that we would tell our younger selves, like making sure to make yourself proud first and the importance of stepping outside of your comfort zone.
To finish out our celebration, we have officially launched an Instagram just for the podcast. So be sure to follow us @openspaceradio and say hi, tell us your ideas for future episodes and tag us in photos of you listening to the podcast! You can also send feedback or episode ideas to openspace@nrpa.org, and we'll send you an Open Space Radio sticker!
Again, a huge thank you to everyone who sat down with us at the 2019 NRPA Annual Conference and thank you to everyone who has listened and helped us get to 50 episodes. We could not have done it without all our amazing past guests, listeners and colleagues at NRPA who support Open Space Radio!
Listen to the episode for the full story.