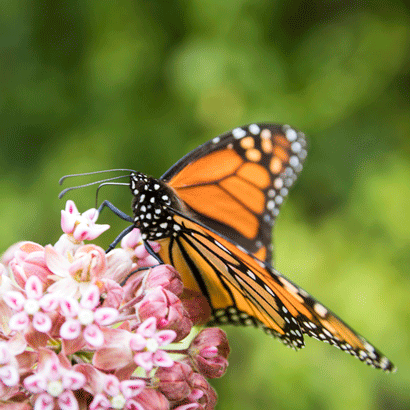 Every year, monarch butterfly counts occur across the country to help determine their overall health. The Xerces Society, a leading authority on pollinators, just announced the western monarch numbers from their Thanksgiving Count, which is a survey conducted in the overwintering sites on the California coast to calculate the health of these butterflies. The results are not encouraging.
Low counts could mean extinction for western monarchs
Three different monarch populations can be found in the United States: western, eastern and a small population that resides in southern Florida. While they are all the same species, each is a separate population with little or no overlap. Their population dynamics are entirely separate, too. Eastern monarchs migrate and spend the winter in Mexico. Western monarchs do not migrate; they go through a type of modified migration, overwintering on the California coast. The southern Florida population does not migrate at all.
In 2019, the western monarch count was less than 30,000 — similar to the year before — which is 1 percent of their original historical levels. This is a cause for great concern, as this specific population of monarchs is in danger of becoming extinct if nothing is done. So, NRPA is joining conservation organizations to issue an urgent call to action. If you live in the western part of the U.S., you and your park and recreation agency can make a difference. We desperately need your help!
Join in protecting the western monarchs
The Xerces Society has created a Western Monarch Call to Action. This plan aims to provide a set of rapid-response conservation actions that hopefully will help the western monarch population bounce back from its extremely low overwintering size. If your agency can help, we hope you will do so! The most important things you can do immediately are to protect monarch habitat and plant milkweed, which is critical to the monarch's life cycle, as well as other nectar-bearing wildflowers that feed monarchs year-round.
Park agencies surrounding the overwintering area also have another way they can contribute to the conservation of monarchs. While we know a lot about the overwintering sites of the western monarchs, it's a mystery where they go in the early spring, which makes it difficult to understand how to protect them. A group of researchers from several universities and pollinator groups — Washington State University; Tufts University; University of California, Santa Cruz; and Xerces Society — have created the Western Monarch Mystery Challenge to figure out exactly where monarch go throughout their lifecycle, which will help conservation efforts.
Take conservation even further by hosting a BioBlitz
NRPA has reached out to several park agencies in California to ask them to help by getting their agency and community to share pictures through iNaturalist of any monarchs seen February 14 - April 22. We also encourage agencies everywhere — but particularly in this key habitat area — to host a BioBlitz. Any way that you can engage the public in documenting monarchs that they see will be helpful. We hope that with this information, researchers and conservationists can help better understand the western monarch and help inform practices to protect them along their migration.
But, this is a call to action for all of us, no matter where we are located. As the owners and managers of millions of acres of land dedicated to conservation, we can make a huge impact — which could ultimately help save the monarchs, as well as the multitude of other pollinator species at risk. If you can do something, please do!
Michele White, CAE, IOM, is NRPA's Conservation Program Manager.