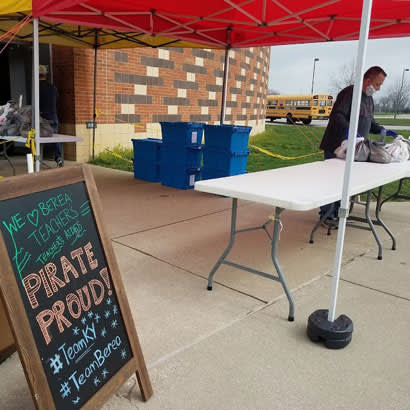 Pictured: Berea Kids Eat, a 2019 Increasing Access to Healthy Foods grantee, works with local partners and volunteers to distribute meals to families during the COVID-19 pandemic. Photo courtesy of Berea College.
Park and recreation agencies across the country play an integral role in alleviating childhood hunger. As critical meal providers, park and recreation professionals have mitigated rising food insecurity due to the COVID-19 pandemic and its economic ramifications. This week, they're getting some help in that effort.
The U.S. Department of Agriculture (USDA) extended waivers that allow all children to continue to receive free nutritious meals through the summer. The waivers allow summer meal programs to serve meals at no cost, outside of normally required group settings and mealtimes to support physical distancing, and allow parents and guardians the flexibility to pick up multiple days' worth of food at once and bring it home to their children.
With these waivers, park and recreation professionals have more flexibility in how to deliver nutritious meals to their youngest visitors. For 12 million children living in food insecure households, these meals will help fuel a summer of fun.
In a recent press release from USDA, Agriculture Secretary Tom Vilsack stated, "Our child nutrition professionals are doing a heroic job ensuring kids across the country have proper nutrition throughout this public health emergency, oftentimes with limited resources. USDA is committed to providing local operators with the flexibilities and resources they need to continue offering the best meal service possible to their children, given their day-to-day realities." More information on the waivers, as well as the full press release from USDA can be found here.
Before USDA's announcement, the previous waivers would have expired at the end of June, complicating the services provided through summer meal programs. The possibility of extending these waivers into the fall remains open as schools consider reopening to in-person or hybrid models. One thing is certain, the pandemic has underscored what child nutrition professionals have long appreciated: meals are as vital as textbooks to ensure children can succeed at school and at home.
Park and recreation professionals continue to pursue innovative ways to provide meals during the pandemic. Here are just a few examples:
Berea Kids Eat (Berea, Kentucky)
Unexpectedly, Berea Kids Eat transitioned into becoming the food service provider for the public school district. Since March 2020, Berea Kids Eat has distributed over 364,000 meals to 2,600 children at property shared by the public school and the Berea Parks and Recreation Department.
Asheville Parks and Recreation (Asheville, North Carolina)
During the summer of 2020, Ashville Parks and Recreation increased its Summer Food Service Program (SFSP) numbers through community outreach and promotion from Buncombe County Schools. They were able to accomplish this through a multisite food program, and also increased the number of meals through the National School Lunch Program (NSLP) by expanding the Recreate and Educate/PODS program to six sites. The program included breakfast and lunch, which the department has not traditionally served in the past.
Bloomington Parks and Recreation (Bloomington, Indiana)
In summer 2020, staff at Bloomington Parks and Recreation worked with SFSP to deliver breakfast and dinners to children during the COVID-19 pandemic. As a result, they more than doubled the number of total meals served from the previous year. In total, the department served 10,288 meals to homes of which 86 percent of children qualified for free or reduced meals in the local school corporation. This delivery method will likely be used again in summer 2021 and perhaps beyond.
More inspiring stories about how park and recreation professionals have supported their communities through serving meals can be found in the blog "Park and Recreation Agencies Step Up to Provide Meals During COVID-19 Pandemic."
Dan McCarthy is NRPA's advocacy manager. His job is to connect NRPA members with their public officials and help advocate for greater awareness and stronger support for parks and recreation. Want to get involved and make your voice heard? Learn more on our advocacy webpage.