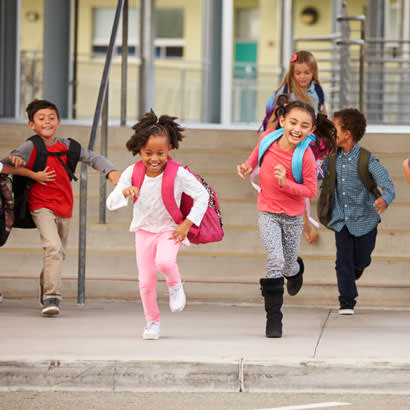 Trauma-Informed Care (TIC) is an important concept to consider when working in Out-of-School Time (OST) settings. The Buffalo Center for Social Research defines TIC as an approach that assumes an individual is more likely than not to have a history of trauma. It recognizes the presence of trauma symptoms and acknowledges the role trauma may play in an individual's life.
From an organizational perspective, TIC changes culture to emphasize respecting and appropriately responding to the effects of trauma at all levels. It is not the intention of TIC to treat individuals, rather, to provide support and related services in a way that is accessible and appropriate to those that may have experienced trauma. The risk for triggering or worsening trauma symptoms and re-traumatizing individuals increases when not using this approach.
Trauma-Informed Care follows five guiding principles:
Safety
Definition: Ensuring physical and emotional safety
Real-World Application: Welcoming common areas and privacy is respected
Choice
Definition: Individual has choice and control
Real-World Application: Clear and appropriate message about individuals' rights and responsibilities
Collaboration
Definition: Making decisions with the individual and sharing power
Real-World Application: Significant role for individuals in planning and evaluating services
Trustworthiness
Definition: Task clarity, consistency and interpersonal boundaries
Real-World Application: Maintaining respectful and professional boundaries
Empowerment
Definition: Prioritizing empowerment and skill building
Real-World Application: Providing an atmosphere that allows individuals to feel validated and affirmed with each contact
Implementing this approach in the OST setting has a substantial impact on positive youth development and outcomes later in life. The Illinois Quality Afterschool group developed best practices surrounding a trauma-informed approach in the afterschool setting. Discoveries include:
increased student resilience, ability to focus, attendance, graduation rates, academic achievement, social behavior and mental health outcomes;
improved coping skills, classroom behavior, emotional and physical student safety; and
decreased discipline referrals, physical aggression and out-of-school suspensions.
Additional best practices involve maintaining structure and routine, providing safe spaces, avoiding power struggles, giving students choice and sense of control (when appropriate), maintaining high expectations, and checking assumptions made about youth.
A variety of OST settings can apply these findings, including parks and recreation. By recognizing Adverse Childhood Experiences (ACEs) and implementing Trauma-Informed Care, park and recreation professionals are better suited to address the array of challenges youth are prone to experiencing.
NRPA has proudly collaborated with the Afterschool Alliance and Alliance for a Healthier Generation to offer a microlearning opportunity focused on Trauma-Informed Care principles and applications. Click here to access the webinar and learn more.
Lauren Kiefert is a program specialist for NRPA.