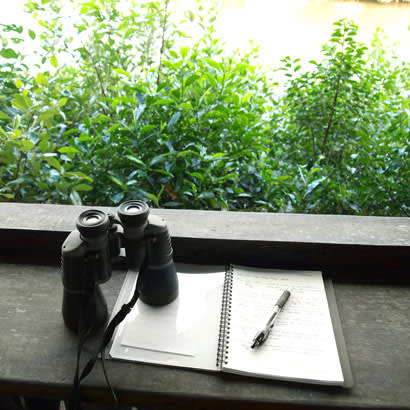 Please note: While the issue of closing parks and facilities related to COVID-19 is rapidly evolving, NRPA recommends practicing safe social distancing and adhering to all guidelines and recommendations from the Centers for Disease Control and Prevention (CDC) and your local public health officials for the most up-to-date information.
It's easy to become overwhelmed by the constant stream of news updates related to the Coronavirus Disease 2019 (COVID-19) pandemic. When I feel the worrying is becoming too much, I make a point to get outside – I am lucky enough to have a small neighborhood park within a 10-minute walk of where I live. This is where I get to spend some time focusing on the natural world. Whether it's learning to decipher the swelling crescendo of spring by learning to bird by ear, or just simply being attentive to the subtle, but persistent changes in the landscape — from the surfacing of daffodils and crocus after their winter hibernation to the budding out of trees. These moments of respite ground me, and the science is clear that time spent in nature improves mood, lowers blood pressure and reduces stress. For help on rediscovering your nearby nature, NRPA's conservation team has put together a list of resources to help you and your family learn, appreciate and find comfort in your local community of living things.
Get Outside When and Where You Can
The uncertainty around the COVID-19 outbreak is causing stress among our families and friends, is the topic of every conversation, and is preventing people from engaging in their daily routines. Jenny Cox, an NRPA conservation program manager, recommends enjoying the fresh air and sunshine during these unprecedented times to reduce stress, keep your mind focused elsewhere and remain physically active. Research shows that spending time in nature can improve your mood, lower your blood pressure and increase your vitamin D intake. While you are doing your part to "flatten the curve" by staying at home, try spending time in the sun if you have a yard or taking a walk around the block or on a nearby nature trail. You can also try out some of the activities listed below with your family. Just remember to practice safe social distancing and, as many parks and trails continue to close during this time, be sure to adhere to all local and state ordinances and guidelines.
Family Outdoor Activities
Ensuring all of our community members still have access to nature and outdoor activities will be important in the weeks to come. Here are a few suggestions from Michele White, an NRPA conservation program manager, for keeping families engaged:
Simple games of "I Spy," scavenger hunts or nature watching outings are great ways to start, but it will be important to plan more than just a few short activities — and make sure they are engaging for both the young and young-at-heart!
NRPA's Wildlife Explorers program connects youth to nature and has an easy-to-use workbook that is perfect for kids 5-10 years old. While initially designed to be used by park and recreation professionals (with or without environmental education experience), it can be used by parents who are more adventurous. Suggest sections that your kids would feel comfortable with and plan activities that will get your family outdoors for the week to come!
Citizen science offers a great way to observe and learn about nature while promoting social distancing! This activity encourages people to explore areas of your parks they might not be familiar with, which may reduce foot traffic on regularly used trails. It also educates them about using technology such as iNaturalist, an easy to use mobile app that allows anyone to observe and record the plants, animals and other discoveries they make in their local parks or backyards. This educates the public about the species that live in their community and fosters a love for nature, while the findings help the research community and inform land managers of the environment in which they work
Many other groups have resources as well, including:
A Closer Listen
During this time of social distancing, Wende David, NRPA's senior conservation program manager, suggests taking advantage of the reduced noise pollution in your neighborhood or local park by playing "Scavenger Hunt Sounds." Go outside and listen for as many different nature sounds as possible. How many can you count? How many can you identify? Try this same game at a different time of day. How does the morning differ from the night? Which do you like better?
For more information about NRPA's response to COVID-19, as well as available resources for park and recreation professionals, please see our Coronavirus Disease 2019 (COVID-19) webpage.
Karl Schrass is NRPA's Director of Conservation.