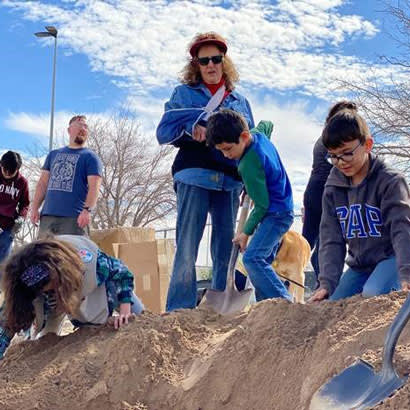 For our Great Urban Parks Campaign project in El Paso, Texas, we followed many of the best practices mentioned in the Resource Guide for Planning, Designing and Implementing Green Infrastructure in Parks to ensure we were still engaging the community, designing for equity, communicating the benefits, and ensuring parks staff and contractors are trained (if you haven't read this guide yet, I highly recommend it!).
Our team of organization partners, volunteers and staff designed and installed two bioswales and wildlife habitats in parks along the Playa Drain Trail segment of the Paso del Norte Trail. To optimize engagement and buy-in on all levels — from students to neighborhood associations, to local government officials and landscape maintenance companies — we planned to have bike tours for families, student summer camp tours, and in-person workshops for contractors and local government leaders. Engaging volunteers can always be a challenge, and, out of necessity, we have learned how to creatively overcome this challenge amidst the Coronavirus disease 2019 (COVID-19) restrictions and precautionary measures.
Prior to COVID-19, we organized three volunteer workdays for our projects so we could leverage volunteers for tree and shrub plantings and bioswale building. Hands-on learning can be super beneficial, so we love hands-on workshops as a way to engage community members in activities in their neighborhood. The concepts of green infrastructure really stick with the volunteers and these have been some of the most rewarding projects.
COVID-19 has impacted our ability to reach new audiences and plan events in the spring and summer. We have switched gears and started to produce videos to still reach our audiences to ensure we don't lose excitement for these projects and stay connected with our community. Our team is developing videos for middle school and high school students that can be played at home or in the future once the students can return to their classes. This video series will include five videos that will each be approximately 5-7 minutes long and cover different topics related to green infrastructure, including watershed health, wildlife, and passive vs. active rainwater harvesting methods. In addition, we are planning webinars with live Q&A to reach a different audience and allow for back-and-forth with our audience.
We had also originally planned green infrastructure bike tours for visitors and residents along the Playa Drain Trail Segment of the Paso del Norte Trail (a 3.4-mile segment of a larger planned 68-mile trail). Given that we cannot gather and hold these bike tours, we will gather drone footage of the swales and record a time-lapse of the bike ride to and from the swales and create a "virtual" bike tour of the sites. We'll add distance data, calories burned and bioswale data to the video, and those at home or those outside of El Paso can still enjoy the Green Infrastructure Bike Tour and learn about the benefits of green infrastructure in the desert.
Additional tips and tricks:
If you create a video or presentation, write down the script, so you can use the language in other outreach tools or social media posts and so it can be accessible to those with hearing or visual impairments, those who prefer to read information, or those whose primary language is not English (writing down the script makes it easy to translate!)
Consider your audience and the current situation — people are inundated with online events right now, so it's important to make it worth their while to attend (and ensure they actually listen).
Take short video clips that can be used in different ways — use them in presentations (now and in the future) and for different audiences.
Use captions for videos — 40 percent of viewers watch videos without sound.
Keep videos to 1-2 minutes in length for Instagram and less than seven minutes for other platforms. Turn the videos into a "series" if the video needs to be longer than seven minutes.
Through these creative outreach strategies, we are hopeful that COVID-19 will not negatively impact our ability to reach our intended audience. Videos, presentations and curriculum development may not have the immediate impact we had hoped for, but the long-term opportunities will be very far-reaching indeed!
Lauren Baldwin is the Principal and Director of Sustainability for Creosote Collaborative, an urban planning and sustainability consulting company based in El Paso, Texas. She is passionate about equitable access, sustainable design, and environmental conservation. Connect with Lauren on LinkedIn.