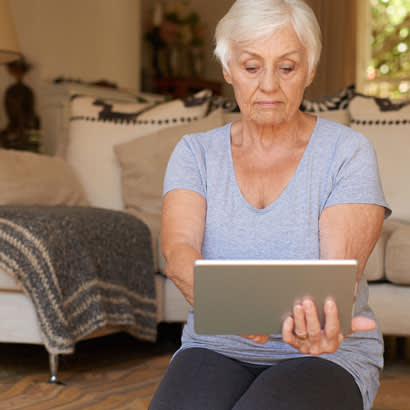 This is certainly an unprecedented time that has impacted our way of life in many ways. The aging service network is one network that has been disrupted by the COVID-19 pandemic as efforts to keep older adults safe are implemented. But, there is no doubt that innovation comes in the midst of crisis, and local park and recreation professionals are moving full steam ahead to revamp and adapt to this new reality. Many park and recreation agencies have started to offer virtual programming and it has been rather exciting to hear and read about your strategies.
And, with innovations come questions! There are questions and concerns about the benefits of virtual programming, but research shows that virtual learning/programming does work. In fact, it often results in higher participant engagement and can still foster participant camaraderie.
The fact of the matter is the basic principles of healthy living remain the same, and you are simply finding alternative ways to meet those needs. People need to remain physically active, eat healthy foods, remain connected to family, friends and their community, and maintain good mental health. This blog post is intended to help you further your home-based program offerings, given staff capacity and other limitations at this time.
Continuing to Promote Good Physical Health
Physical activity is important for many reasons, and during times like these, it not only helps older adults continue to maintain good health and manage their chronic conditions, but is a great way to boost mood and energy and promote better sleep. While your facilities are closed, the following are ways to continue promoting good physical health:
Accessing Healthy Meals
The provision of healthy meals is another essential service that may be disrupted at this time. You may have previously hosted congregate meals or coordinated home-delivery meals for home-bound individuals. As an alternative, you may be able to operate a drive-through, grab-and-go meal service or deliver a week or more worth of shelf-stable and frozen meals. For many older adults in Los Angeles, prepackaged meals will be available for pick-up (either by them or family members) from several senior centers, and home deliveries are continuing.
Additionally, The Families First Coronavirus Response Act provides additional funding for the nutrition services programs authorized by the Older Americans Act, while the Coronavirus Aid, Relief and Economic Security (CARES) Act describes three waivers that will allow:
100 percent of funds to be transferred between congregate and home-delivered meal programs
Individuals who are homebound for physical distancing purposes to be eligible for home-delivered meals, regardless of state or local policies
Waiver of dietary guidelines, so networks can provide available meals to recipients
This is great news, as many older adults will be able to access meals during this time, which is one less thing for them to worry about! If your agency does not offer a meal service, there are other ways you can help. Direct your older adults to the following resources:
USDA National Hunger Hotline (1-866-3 HUNGRY/ 1-866-3 HAMBRE)
Maintaining the Connection
We are social beings and thrive off the connections we have with those around us. There is no question that we need each other now more than ever before. Besides offering meal and physical activity solutions, the following are ways you can keep the social connections alive:
General outreach to perform welfare checks. These may take the form of phone calls, text messages or physical mail (brochures, letters, etc.). To assist with phone calls, scripts may be developed to get the conversations going. In Tualatin, Oregon, parks and recreation staff, in collaboration with the Washington County Disability, Aging and Veterans Services, have developed call scripts and are making calls during the week to check in with the older adults to ensure their needs are being met.
Virtual book clubs, friendship lines, and online meetups such as coffee talks and happy hour.
Intergenerational activities such as virtual storytime, oral history sessions, artwork and music sharing, and mentoring. Senior Lifestyle recently published How Seniors Can Stay Virtually Connected with Loved Ones, which provides various options to stay in contact digitally with loved ones.
It is also important to think about the capacities of older adults. Do they have internet or smartphones? The answer to this question will help you vary your strategies. Not sure what platforms to use? Check out NCOA's Tools for Reaching a Remote Audience. This list provides the pros and cons to using a variety of technology platforms, which will allow you to choose the one that best fits your needs
Other Tips and Recommendations
Virtual museum and national park tours
The Eldercare Locator: a public service of the U.S. Administration on Aging that helps to connect older adults and their caregivers to aging services and providers
ChooseMyPlate: a healthy eating tool that offers ideas and tips to create a healthier eating style
SAMHSA's Disaster Distress Helpline: a national hotline dedicated to providing immediate crisis counseling. Call 1-800-985-5990 or text TalkWithUs to 66746 to connect with a trained crisis counselor
NCOA's COVID-19 resource center has a wealth of information for older adults and caregivers and professionals.
As this is new territory for many of us, please be patient and kind to yourselves, your colleagues and your community members, knowing that whatever strategies you implement will need to be refined as you go along. We may be physically distancing, but we can all do so together through these various ways!
For more information about NRPA's response to COVID-19, as well as available resources for park and recreation professionals, please see our Coronavirus Disease 2019 (COVID-19) webpage.
Cheers to Healthy Aging!
Lesha Spencer-Brown, MPH, CPH is an NRPA Senior Program Manager and Colleen Pittard is an NRPA Program Manager.