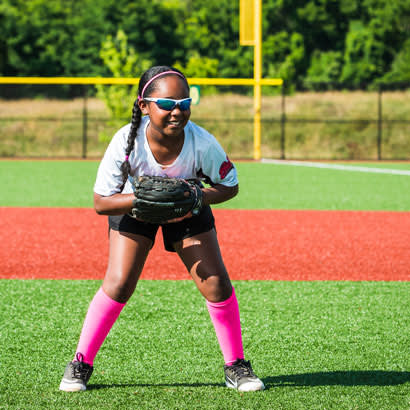 Photo by Daoud Salam, courtesy of Howard County Recreation and Parks.
February 2, 2022, was National Girls and Women in Sports Day — an annual celebration hosted by the Women's Sports Foundation. This day is a moment to celebrate female athletes and to take action to ensure women and girls have equitable access to opportunities for physical activity.
According to a report from the Women's Sports Foundation, 40 percent of teen girls do not participate in sports compared to 25 percent of teen boys. Additionally, by age 14, girls are dropping out of sports at two times the rate of boys. As one of the primary providers of youth sports in communities, park and recreation professionals are well-positioned to increase gender equity in youth sports.
But first, it's critical to understand why girls aren't choosing to play sports in the first place. Reasons why girls are more likely to drop out of sports include:
Lack of access to sports opportunities (girls have 1.3 million fewer opportunities to play high school sports than boys)
Safety and transportation issues
Social stigma
Decreased quality of experience
Cost
Lack of positive role models
As park and recreation professionals, we can help close the gap in access by listening to girls in our communities about their preferences and the barriers to sports they face, planning for how we can offer girls more opportunities that genuinely welcome them into sports, and promoting our opportunities in a way that makes girls feel included.
Listen
While we have national-level data around reasons why girls are dropping out of sports, it's important to know the specific barriers girls face in your community. In Vivian, Louisiana, park and recreation professionals partnered with the local school district to disseminate the State of Play Youth Survey from the Aspen Institute's Project Play to local youth to engage kids in the development of sports programming. Results from the survey uncovered that 27 percent of respondents, mostly girls, felt they were not good enough to play sports.
By understanding why girls weren't participating, professionals in Vivian were able to develop a plan to engage girls in their sports offerings.
Plan
Once you've listened, it's important to take action. Professionals in Vivian are considering hosting sports sampling events that specifically showcase sports that girls in their community say they are interested in trying, as well as recruiting older girls to help facilitate those workshops. Encouraging girls to bring a friend to a sports sampling event can also help relieve fears while offering them a new place to spend time with their friends (which is one of the top reasons kids say they play sports).
Other strategies you can put in place to help increase girls' participation in youth sports include:
Continue to ask girls which sports they're interested in playing and what barriers exist.
Audit your programming to ensure you offer the sports girls want to play. Note how many opportunities you have, how often you offer them, and during what time of day.
Audit your facilities to ensure you have the physical space for girls' desired sports opportunities — are these facilities the same quality as the amenities for boys? And remember to allocate field time equitably between girls' and boys' leagues.
Bring women and girls in as coaches and coaching assistants. It's important that girls see themselves in leadership roles.
Promote
Representation matters. Once you have your plan and strategies in place, it's important to market the opportunities to your target audience (girls and their parents and caregivers!). If you use social media to promote your event, ensure the photos are representative of the girls in your community. Do your photos show female players and coaches? If you discover, as staff in Vivian did, that girls in your community don't feel like they are good enough to play sports, address that fear. Make it known that experience isn't necessary to participate in your sports opportunities. Highlight the benefits of sports beyond "winning" — such as learning skills like teamwork, leadership and confidence.
Don't forget to use NRPA's Youth Sports Communication Toolkit to promote your offerings! This resource includes customizable templates for social media, fliers, emails, posters and more. Several of the templates already include photos of girls in sports, but you can customize them with photos of girls from your own sports programs (use photos with permission, of course).
At NRPA, we believe every child should have the opportunity to play sports, no matter their age, ability, gender identity, race, ethnicity, family income or interests — and that all kids should feel welcome in park and recreation programming. We commend our professionals as they celebrate National Girls and Women Sports Day in communities nationwide, acknowledging that while we've come a long way in the fight for gender equity, there's still more work to be done.
Teresa Morrissey (she/her) is an NRPA Program Manager.