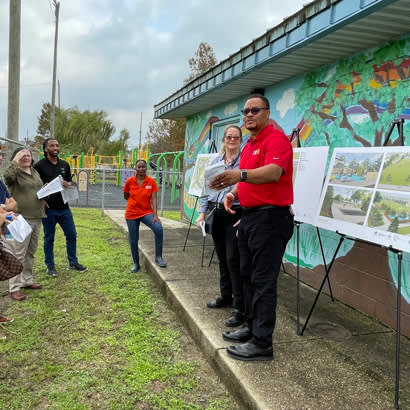 NRPA's Resilient Park Access Grant has given seven select agencies an opportunity to advance community-driven, systems-level strategies for equitable park access that improves the resilience and health of their community. New Orleans is one of those grantees and is currently updating its master plan in an effort to increase equitable access to resilient parks. Some of their plans include revitalizing parks and greenways through turf management projects and added features, planting 1,100 canopy trees to combat changing climates, renovating recreation centers, and installing underground water reservoirs as part of a larger stormwater management project.
The stormwater management project, which will store stormwater from major rain events in reservoirs beneath green spaces, is not only vital in reducing flooding, but it also allows water to permeate through the ground faster, making that particular greenspace more readily available for use after the rain. With the history of flooding in New Orleans — which is below sea level — and the effects of Hurricane Katrina still persisting, it is imperative to create green infrastructure to help the city navigate natural disasters more efficiently and effectively.
In addition to its NRPA grant, New Orleans is able to leverage federal disaster relief funds to address the city's issues. These additional resources have allowed New Orleans to be among the nation's leading urban cities regarding environmental resilience. As part of its efforts to be more resilient and equitable, New Orleans has created a workforce development program through their stormwater management projects. This program will train community members to help maintain this new green infrastructure, leading to the advancement of green jobs for participants. Not only is this a win for the city and its residents, but this program could also be a useful model for other agencies looking to incorporate a similar program.
National Disaster Resilience Program Overview
The City of New Orleans was awarded approximately $141 million in grant funds through the HUD National Disaster Resilience (NDR) Competition. The city established its first-ever Resilience District in the Gentilly neighborhood and surrounding areas. New Orleans' resiliency needs differ from much of the region in that its social stresses are more extreme.
The goals and objectives of the NDR Program include:
Integrating physical and social resilience through the support of innovative initiatives (ee.g., transforming stormwater management by integrating green infrastructure into the city's traditional "grey" infrastructure)
Developing a green infrastructure workforce
Revitalizing parks and playgrounds by creating new blue and green spaces
Mitigating neighborhood heat
Providing opportunities for physical activities and engagement outdoors
National Disaster Resilience Workforce Development Program
In November 2014, New Orleans appointed its first Chief Resilience Officer to work across public agencies and partner with the private sector to develop a resilience strategy. In January 2015, the city hired its first Stormwater Manager to oversee public investments and policy for innovative stormwater management. City project planners utilized information collected by local organizations such as The Data Center, which provides robust analyses on poverty and racial disparities in employment outcomes. Through an extensive, complex and comprehensive community engagement series, a diverse group of residents and community stakeholders met to assist in creating the workforce development program and defining its goals and objectives.
$3 million of the National Disaster Resilience (NDR) funds has been allocated to provide workforce development training services that aim to:
Train the local workforce in green infrastructure and water management
Connect unemployed and under-employed New Orleanians to a growing "water economy"
Focus on job readiness and developing the next generation of builders, problem-solvers and green infrastructure specialists
Support programs to hire and train a skilled workforce to build and support the maintenance of NDR-funded projects
Currently, the City of New Orleans is holding its fourth cohort/classroom series, with 82 students who have completed the green workforce training. Participants are paid a competitive hourly wage during their eight-week apprenticeship. Ultimately, the goal will be to place Green Graduates into steady jobs that are part of New Orleans' "growing" green infrastructure industry.
With New Orleans ranking as one of the worst heat islands in the U.S. — and the looming threat of flooding constantly present — the city is working aggressively to combat these issues in an equitable way. Not only is the city working across departments to bring these plans to fruition, but also getting input from and involving the community to ensure equity is being centered. Although New Orleans is unique in its geographic location and the solutions needed to combat natural disasters in the area, its efforts to continue to become more resilient are certainly commendable and could be used to help guide other agencies around the nation in undertaking their own environmental resilience journeys.
Stephanie Dreher, P.E., is the senior program manager of stormwater and green infrastructure at the City of New Orleans.
Justin Taylor (he/him) is a program specialist at NRPA.
Join NRPA Connect's Park Access Network to engage with other park and recreation professionals, learn more about systems change and a host of other topics relating to resilient park access.
NRPA's Resilient Park Access program, supported by The JPB Foundation, aims to advance community-driven, systems-level strategies for equitable park access that improve the environmental resilience and health of communities through public parks and recreation. NRPA believes parks play a key role in advancing equitable environmental and social resiliency that improves communities and ensures they can meet current and future challenges.