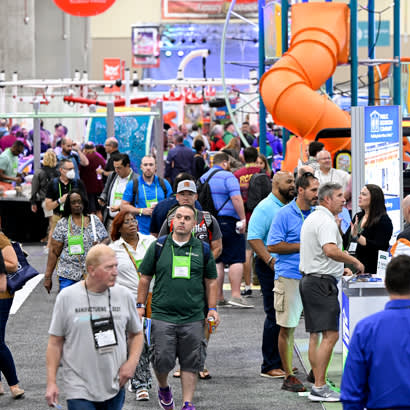 As park and recreation professionals, we are always looking for new ideas and strategies to improve our communities. One of the best ways to stay up to date with the latest trends in our industry is by attending the NRPA Annual Conference. Addie Weaver, a senior recreation supervisor at Washington Township RecPlex, recently shared her experiences at the NRPA Annual Conference and how they have influenced her ability to make an impact in her community.
Cultivating a Network of Peers
Weaver has been in the park and recreation field for 18 years and during her professional career has attended more than 10 NRPA Annual Conferences. She first heard about the conference while working at the City of Kettering Parks and Recreation and Cultural Arts in Ohio. She attended her first conference in Indianapolis in 2007 when she and a handful of colleagues loaded into a van and took an hour-long drive to go to sessions for the day. Weaver was hooked. She found the quality of sessions and networking opportunities to be exceptional. The conference provided her with a bigger picture of the industry and helped her understand the various ways in which park and recreation agencies can make an impact on their communities.
"What I think I love most about the conference is how interactive it is. You're giving and receiving and learning from each other," she says. "It's not just about sitting in a room and listening to someone talk. You get to interact with people who are doing similar things to you in different parts of the country."
The interactivity of the Exhibit Hall is another highlight for Weaver. "The Exhibit Hall is so big and has so many different ideas. Every time you go to a new booth you can find something to bring back to your community," she says.
Relationships and Team Building at the Annual Conference
But it's not just the sessions and exhibits that make the Annual Conference so valuable for Weaver. She also emphasized the importance of building relationships and team building while there. By taking time to connect with other park and recreation professionals, Weaver was able to learn from others and develop a network of peers who could support her in her work.
"I especially enjoy the NRPA Best of the Best Awards. It is special to see the impact that so many other professionals can have on the industry and serve as inspirations for others."
She also recommends taking time for team-building activities while at the Annual Conference, as this can help build stronger bonds between team members and facilitate better collaboration when they return to work. She encourages team members to be fully engaged while at the Annual Conference. That means disconnecting from emails and other distractions that can prevent people from immersing into everything that event has to offer. Check your email before and after. Any opportunity where people can get together is a good opportunity in her opinion.
"The Annual Conference is a great equalizer," she shares. "It doesn't matter if you're the director or a student. The conference allows equal opportunities for everyone to learn from one another."
Using the Annual Conference as a Catalyst for Community Change
So, what does Weaver do with all the knowledge and ideas she gains at the conference? As she puts it, "I steal ideas to bring back to my community." By taking what she's learned and adapting it to the unique needs of her community, Weaver is able to make a real impact.
"Imitation is the greatest form of flattery in the parks and recreation field," she jokes. "The NRPA Annual Conference is a playground, pun intended, for ideas that we can bring back to our communities."
She has presented more than 10 times on a variety of topics from assets in youth sports and staff appreciation to social equality programming and processes of change management. At this year's event, she'll be co-presenting: "Good Trouble: How to Keep Your Foot on the Gas." They will be talking about empowering a diverse array of parks and recreation professionals to ensure that their voices are heard.
To join Addie Weaver and have the chance to participate in her upcoming presentation, register for the 2023 NRPA Annual Conference in Dallas, Texas, October 10-12.
Hayley Herzing (she/her) is NRPA's Senior Manager of Membership.