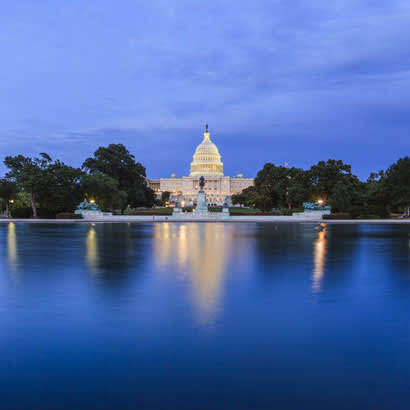 A monumental vote was taken in the U.S. Senate on June 17, 2020. With many major issues challenging us personally and professionally these days, I don't want us to overlook something that can be a tremendous game-changer for parks and recreation for generations to come.
By a vote of 73 -25, the U.S. Senate voted to permanently and fully fund the Land and Water Conversation Fund (LWCF). This is huge — yes, PERMANENTLY and FULLY fund LWCF. This historic piece of legislation was passed in 1965 and has never been fully funded in its history, let alone permanently funded at the highest level allowed by law. If we as a profession can push this bill across the finish line of the U.S. House of Representatives and then on to the President's desk for signage, we can fulfill the ideals of President Theodore Roosevelt, who made it his mission to protect public lands and natural resources across America.
Coupled with 2018's herculean tasks of permanently reauthorizing the bill and changing its funding formula to a minimum of 40 percent for stateside portion, this effort now has the potential to fund more local and state projects than President Roosevelt could have imagined. In fact, the average stateside funding over the last 10 years was at a paltry 23 percent.
Over the years, this has not only been a top priority of NRPA, but also state associations and many outdoor enthusiasts and conversation groups. I can go back to the days of Barry Tindall (NRPA's previous liaison to the U.S. Congress) when he tried to rally us at previous NRPA midyear meetings in Washington, D.C. I can also remember the South Carolina Recreation & Parks Association's (SCRPA) past presidents and the South Carolina Department of Parks, Recreation and Tourism making numerous trips to D.C., while taking hundreds of thousands of steps walking the halls, begging for just $100 million for the entire LWCF — with only a pipe dream of one day receiving half the authorized funding of $450 million, let alone the full and permanent funding this iconic program now has a chance to receive.
Thanks to the U.S. Senate vote, we now have the potential of $900 million each and every year without going through the appropriations process. In little 'ole South Carolina, this means we would receive in excess of $5.7 million per year. While I know larger states may balk at that "small" amount, South Carolinians can be assured of future access to public lands and outdoor spaces if we pass this through the House and the President signs it. We are fortunate in South Carolina to be part of the open project selection process of this grant program, which every state must go through, to decide where these dollars are invested. Our local and state parks could and have utilized these federal dollars as leverage for both local and private donations from philanthropic individuals, nonprofits and corporations. We could now have the potential to build multi-million-dollar parks that will provide public access to our lakes, rivers and the ocean. We can now build more and better outdoor spaces for every member of our community to enjoy great public parks and open spaces — something that the COVID-19 pandemic has proven we certainly need.
While we have several more hills to climb through the U.S. House of Representatives and then the President's desk, this is a really, really big deal.
So let's not waste this tremendous opportunity to contact every member of the U.S. House of Representatives and ask them to pass the Great American Outdoors Act. Let's do it for all of our local and state parks that have benefited from this money, granting access to the great outdoors in small and large states. Let's do this for all the Barry Tindall's and the many others in our states that have passed away before seeing this monumental vote in the Senate. Let's do it for many past presidents and chairs of NRPA and all of our state associations.
Most importantly, let's do this for future generations so they can be given the opportunity to access the parks we have now and the parks that will come in the future, as well. If we can do it, we'll leave this world a little better than when we came into it.
James E. Headley, CPRP, is the Executive Director of the South Carolina Recreation & Parks Association (SCRPA).