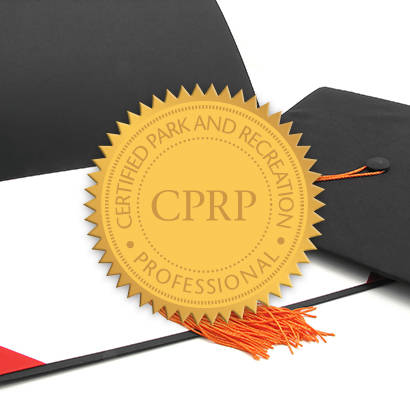 Park and recreation professionals jump into this field from all different backgrounds, bringing a diversity of strengths to their departments. This diversity comes from experience and educational degrees in the field of parks and recreation, as well as business, public administration, education, and other fields. Regardless of their background, all park and recreation professionals can benefit from going through the Certified Park and Recreation Professional (CPRP) process.
Speaking from personal experience, becoming a CPRP was extremely helpful in increasing my understanding of the different areas of our agency. Initially, I came in to the field during high school as a lifeguard and pool supervisor. I enjoyed the active and fun job, so during college I continued working at a local aquatic center while I pursued a degree in business administration. Like many other graduates, I contemplated what to do next and decided to continue working for our Leisure Services department as a full-time specialist in aquatics and health and wellness. My business background helped me with budgeting, staff training and communications - which also happen to be some of the core areas of the CPRP certification.
To learn more about the park and recreation field, I decided to apply to become a CPRP. With several professional years under my belt, I studied many of the texts listed in the study guide and took the practice tests. Between that research and speaking with many professionals, I obtained a wealth of knowledge about the field and realized that I enjoyed learning more about other divisions beyond aquatics. Additionally, by successfully completing the CPRP certification I became recognized as someone with a well-rounded background.
Becoming a CPRP helped build confidence in my skill set and prepared me for new challenges in the workplace and as I participated in other committee work. Now, with over ten years in the field, I serve as our agency's Business Operations Coordinator and work with all divisions of our department. I have achieved a Master of Business Administration, earned my Certified Park and Recreation Executive (CPRE) certification, have served on many committees, spoken at many state conferences and made professional relationships across the country. Looking back, I could have easily just stayed in my entry level position in aquatics or chosen a totally different field. Earning the CPRP solidified my commitment to the field and created a stepping stone to countless opportunities.
Interested in following in Jeanette's footsteps and becoming a CPRP?
This is your year to treat yourself with professional growth and explore a future with one of the top certifications for the field. Click here to learn more and apply.
Jeanette R. Aiello, CPRE is the CPRP Development Committee Chair and Business Operations Coordinator for Canton Leisure Services in Canton, Michigan.