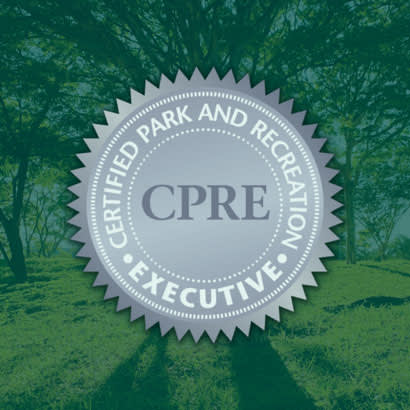 When a former director suggested I pursue my Certified Park and Recreation Executive (CPRE) certification, I thought, "No way, that's for executives/directors/really important people." I knew I could do it, but I was hesitant. Many of my coworkers told me that no one passes on the first try, and some never manage to pass, and hearing this made me nervous. Then the more I thought about it and how I would be the only one in my large department who had the executive level certification the more I wanted it.
I signed up, bought the book, and then did not study until the last 30 days until my test date. I do not recommend this unless you are someone who can remember a lot of information in only a short period of time. I finally buckled down the last three days before my test date and got to work really studying for the exam. I was scared on the day of my exam, worrying I would forget everything I had known for years and everything I had read in the textbook. And guess what? It wasn't scary at all (other than the water leak in the locker that held my phone and keys).
I finished with a lot of time left and I felt good about my answers. I was so proud to pass the exam on the first try, because it validated the many years I have spent as a park and recreation professional, and it meant that I am officially an "executive/really important person," even if my current title is not "director."
Here are my best tips for taking the CPRE exam, which I have shared with many prospective CPREs on the Women in Parks and Recreation Facebook page:
Review and take the Certified Park and Recreation Professional (CPRP) practice quizzes online with Quizlet and review the CPRP material (Yes, I know you are taking the CPRE, but many subject areas are repeated).
Assess your areas of weakness based on your quiz scores and focus the rest of your study time on these areas. My area of focus was land acquisition terminology since I have had less experience with acquiring land for parks.
Prepare for your testing day with whatever rituals you need to perform, and to arrive calm and confident to ace the exam. My ritual was having coffee and note cards with me up until I walked into the testing facility.
Take your time and read all the questions thoroughly when you begin the exam. If you get one of the math questions wrong, it was probably in your understanding of the question — re-read it and start your calculations again.
This may be against others' test-taking philosophies, but I recommend you answer all of the questions as you go; don't leave any blank in the hopes you will come back to them later. Just in case you run out of time, you don't want to miss questions because you didn't answer them. At least with choosing an answer, you have a chance at getting it correct.
Believe you are going to pass. Confidence is half the battle and preparation will take care of the rest.
There are now so many study and preparation materials available to assist you in your journey to become a CPRE. If you have the resources, take advantage of all of them. Connect with others for tips and share your experiences to help others achieve this goal.
The CPRE club is growing by the day, and I encourage any CPRP who is up to the challenge to take the leap to become a Certified Park and Recreation Executive. The CPRE has helped me get better interviews for better positions, serve in more professional volunteer roles and qualify for more opportunities. The best part is that most other park and recreation professionals are respectful of your achievement since it is the highest level of certification in our field. Having others recognize your commitment to the highest standards of our profession strengthens you and our entire community of passionate professionals. To put it simply, it is our parks and recreation version of "game recognizing game." Who wouldn't want to be part of that?
Interested in becoming a CPRE? Now is the perfect time! Complete an application to become a CPRE between March 1, 2022 and April 30, 2022 to receive 25 percent off the Management of Park and Recreation Agencies, 4th Ed. eBook or eBook bundle to help prepare you for the exam. Learn more and apply today.
Myla Neal, CPRE (she/her) is the assistant director for Loudoun County (Virginia) Department of Parks, Recreation & Community Services, CAPRA Accredited.