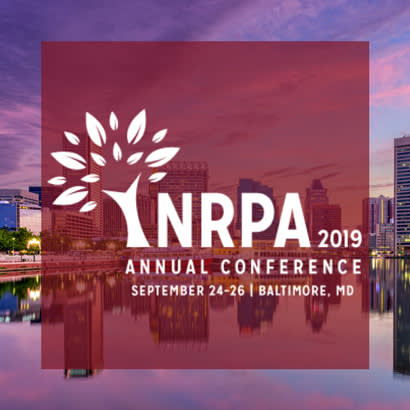 The NRPA Annual Conference is coming to Baltimore, Maryland this September 24-26! Whether you are new to the conference or a repeat attendee, you probably want to know a little more about what's happening. Here is a quick list of what you need to know to help you plan:


For Park Professionals and Beyond
The NRPA Annual Conference is where people who are passionate about not only parks and recreation, but also conservation, health, landscape architecture, city planning and more come together to connect. Each year we widen the focus of the education sessions and exhibit hall offerings to try to meet the needs of all professions that are in the business of making communities great.


Expertly Planned Education
The NRPA Conference Program Committee spends hundreds of hours crafting the education schedule and selecting speakers to ensure valuable and practical content for the attendees. You will have your choice of more than 200 education sessions through 12 education tracks that cover a variety of topics including leadership and management, public relations, marketing, recreation programming, revenue/customer service, aquatics and more. Most sessions also offer CEUs which you can use to maintain your certification or reach other professional development goals.


Be Inspired by Cal Ripken, Jr.
The 2019 Opening General Session will feature Baseball legend, Cal Ripken, Jr. An inspirational speaker, Ripken, is the personification of leadership, commitment and excellence. From his own philanthropy with the Cal Ripken, Sr. Foundation and his dedication to helping children around the country, Ripken showcases how individuals can give back and create new opportunities for others. Baseball's "Iron Man," Ripken broke several professional baseball records during his 21 seasons, but none is as sacred as his consecutive-games-played record. Shattering Lou Gehrig's streak of 2,131 games by more than 500, Ripken displayed perseverance, endurance, and an everyday work ethic that endeared him to fans, transformed him into a national icon — and some argue, even saved baseball at its darkest moment. As one of the most popular athletes of his generation, Ripken's example will inspire you to achieve your own brand of success.


The Exhibit Hall of Your Dreams
There's so much to see and do in the exhibit hall, and each year it just gets bigger! With more than 400 exhibitors, the exhibit hall is filled with the newest and most innovative products and services in the field. Unleash your inner child and test out cutting-edge playground equipment, athletic gear, aquatics products and other services from top brands. And don't forget to bring your Exhibition Game card with you as you stop by the exhibitor booths. Completing your card is just one of the many ways you can win cool prizes in the exhibit hall.


Workshops and OSIs
Get the most out of your trip to Baltimore by attending a workshop before the conference kicks off. Covering topics such as leadership, accreditation, certification, marketing and more, these workshops provide hands-on training and in-depth information. You can also sign up for an and join the Baltimore Local Host for an inspiring tour of the unique cultural attractions, stand-out parks and more throughout the Baltimore area. Don't forget, pre-registration for these special sessions is required and they sell-out fast!


"Did We Just Become Best Friends?"
Every year, conference attendees say one of the top reasons they come is to network. With 8,000 professionals in attendance, the NRPA Annual Conference is the best event to meet new people or reconnect with colleagues. This year we have a lot of fun activities planned that will give you the chance to let loose and have fun with your newfound friends! Join the Baltimore Local Host for tours of the local attractions including Inner Harbor kayak tours, a moonlight tour of the D.C. monuments and fishing on the Chesapeake Bay. Or if you're feeling more active, you can participate in the annual golf tournament or 5K Fun Run/Walk. And don't forget to attend the biggest party of the year – the Opening Reception at M&T Bank Stadium, home of the Baltimore Ravens.


Good Morning Baltimore
Speaking of Baltimore, there are so many reasons that make it the perfect destination for the largest and most exciting park and recreation event of the year! Baltimore is home to more than 260 parks stretched across more than 4,600 acres with an additional 1,200 acres of urban wilderness — the second largest in the United States. Combine that with the rich American history, the diversity in their more than 225 neighborhoods, a booming art scene, the Inner Harbor and all of its attractions, and, of course, their world-famous blue crabs and there will be no shortage of fun activities for you to enjoy during your time in Charm City.


Ways to Save on Registration
We know budgets can be tight, so here are a few ways to save on registration:
If you need help convincing your boss to pay for you to attend, here are some justification tips that should help sway them in the right direction.
To learn more and to register, visit the NRPA Annual Conference website.
You can also get conference updates and connect with fellow attendees on Twitter and Instagram using hashtag #NRPAConference.