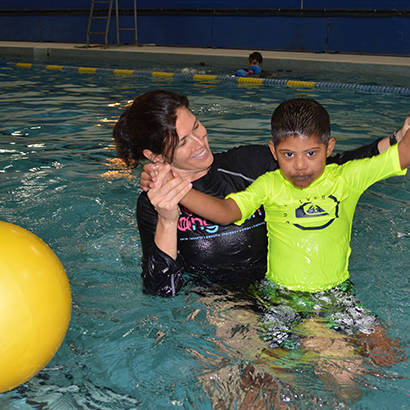 This summer, it's likely that many park and recreation facilities, aquatic centers and summer camps will be accommodating children with autism and various sensory challenges. Swim Angelfish, an organization providing swim therapy to children with special needs, has 20 years of experience instructing specialty swim lessons and camps for this population.
As a community of recreation and leisure professionals, we aim to decrease the statistic of drowning as the leading cause of death for children with autism. So how can we improve safety, communication and knowledge to better accommodate these families in our facilities and programs
Lifeguards: If a swimmer covers their ears when you blow the whistle, this could be a sign of a sensory challenge or autism. If possible, try getting closer and using simple words to correct their behavior, such as "need to get out," "walk slowly," or "no running." If this doesn't work, you might need to use a physical prompt to get the child safely out of the pool. You can say "I am going to touch your shoulder," then touch the child's shoulder and give eye contact, a gesture, and verbal cue for the desired response. A thumbs-up or high-five after they correct the behavior could also be helpful. Follow up by asking the child's parent how you can work together to make sure the pool and their child remain safe.
Front Desk: It can be challenging for an employee in this position to determine how to accommodate a family with a special-needs swimmer. But by asking the right questions, it could help the member explain their individual needs. Using phrases like "Tell me more" and "How does your child respond best?" opens the door for communication. If there is a line of people and you notice an eager swimmer displaying behaviors of jumping, flapping, squealing or talking loudly, you may ask the other patrons if they would let the excited swimmer advance the line. This will decrease anxiety for the child with special needs, as well as the parents and possibly even the other pool goers.
Program Members: You may want to have an opportunity at your center for sensory swim times. These are times when children who are sensitive to noise, are maybe impulsive, or who might have some atypical behaviors, would be able to swim in a more controlled environment. By decreasing noise, distraction and crowds, you are giving the family and child the ability to enjoy a swim day without judgment. If your child makes noises or displays behaviors that cause unwanted stares, parents will be thrilled to be among understanding peers and not have to worry about being embarrassed. Swimmers who use wheelchairs or any type of adaptive need can also benefit from this option. A poster explaining the days and times sensory swim is offered is helpful to alert your other patrons and regular lap swimmers.
Risk Management: Ritual and routine are the keys to keeping the pool and special-needs swimmers safe. Stay consistent with rules so they understand what is expected during the swim time. Have all-staff meetings on how you will accommodate the families and keep the routines as consistent as possible. For certain swimmers, the parent or caregiver may need to revise or manipulate a routine so that it is more successful for their swimmer. Using pictures of routines or having some photos of the rules may be beneficial to this population.
Community Awareness: Cultivating community relationships can be a direct result of offering sensory swim times. Your ability to accommodate these families could draw more business to your facility, since sensory disorder and autism are very common. Word may travel about your diverse and accessible programming that benefits the entire community, and it's possible that siblings of special-needs swimmers may enroll in your other programs. You are providing a one-stop shop for families to enjoy your park and recreation programming.
Cindy Freedman is the co-founder of Swim Angelfish, and is a recreational and occupational therapist. Online education for adaptive swim training can be found at swimangelfish.com/cert/.
May is National Water Safety Month! As pools around the country get ready to open for the summer months, it's the perfect time to remind your communities about how to be safe in and around the water. Share our water safety tips this month and follow along on social media using #WaterSafetyMonth and #WaterSafetyWednesday! We're posting a new water safety graphic each Wednesday that is perfect for sharing.