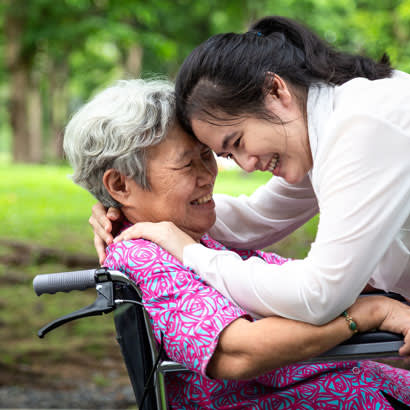 Creating a Dementia Friendly America
Nearly six million people in the United States are living with Alzheimer's disease, the most common form of dementia. Eighty percent of people living with dementia live at home or with family. And there are more than 16 million care partners of people living with dementia. These statistics point to why communities that are supportive of people with dementia and their care partners — what we call dementia-friendly communities — are so important! Dementia-friendly communities help ensure that people living with dementia and their care partners can live with dignity, safety and social connectedness in their homes and communities.
Dementia Friendly America (DFA), launched in 2015 and, based on Minnesota's successful statewide ACT on Alzheimer's initiative, is a national effort with two overarching aims:
Increasing the number of dementia-friendly communities across the United States
Raising public awareness and action to support people living with dementia through the Dementia Friends USA program
Dementia Friendly Communities
DFA focuses on strengthening the entire community's ability to assist people living with dementia and their care partners to live well. To achieve this goal, DFA focuses on strengthening the role of each sector in creating a dementia-friendly community. Business and banking; law enforcement and first responders; health care systems and hospitals; faith communities; local governments; libraries; community members; and parks and recreation: all sectors play a critical role in supporting people who are impacted by dementia.
Dementia-friendly communities are cities, counties, towns and municipalities that are actively working to be informed, safe and respectful places for people living with dementia, their families and care partners, and provide supportive options that enhance their overall quality of life. Examples of how a community can become dementia-friendly include:
Holding memory screening events in partnership with local senior centers, adult day centers or others. A memory screening usually involves a set of questions and tasks and is used to indicate whether a person may benefit from more extensive testing with a primary care physician or specialist
Offering "memory cafés," which are welcoming, stigma-free social settings where people living with dementia and their care partners can meet others and enjoy time together, promoting social engagement and reducing isolation.
Training businesses on how they can be more dementia-friendly
Partnering with healthcare entities to ensure early diagnosis and to connect people to helpful community-based services
Assisting local police, fire and rescue personnel to be able to respond to the specific needs of people living with dementia particularly during a crisis
Every action counts, big and small. To see a list of current dementia-friendly community initiatives, visit the DFA website. There you will also find more information about the key steps your community can take to become more dementia-friendly!
Become a Dementia Friend!
In addition to supporting the development of dementia-friendly communities in the United States, Dementia Friendly America operates Dementia Friends USA, which is part of a global movement developed by the Alzheimer's Society in the United Kingdom. The goal of the Dementia Friends program is to help everyone in a community understand what dementia is, how it affects people and how everyone can make a difference for people touched by dementia. There are millions of Dementia Friends across the world and 82,000 here in the United States.
Becoming a Dementia Friend is fairly simple and critically important to fostering understanding in a community and a sense of acceptance for people living with dementia and their care partners. In fact, 23 states and territories now offer Dementia Friends sessions and individuals can become a Dementia Friend online. Check out Dementia Friends to learn how you can get involved. Becoming a Dementia Friend is an easy way to show your commitment to this important issue!
Dementia Friendly Parks and Recreation
More than 40 percent of dementia-friendly community initiatives count parks and recreation programs as the main community partner. How are parks and recreation partners helping to create dementia-friendly communities? Examples that have been used by current DFA communities include:
Offering memory cafés as part of your programming
Conducting Dementia Friends sessions as part of your recreation programming
Ensuring local facilities and sites are more dementia-friendly (e.g., provide clear signage in easy-to-observe locations; ensure proper lighting to prevent shadows or high-glares, make available comfortable seating that people can use to rest; and using flooring that is not overly reflective) and offering specific dementia-friendly programming;
Offering memory screenings as part of your programming and ensuring attendees know where to go for follow-up
Partnering with your local Area Agency on Aging and the Alzheimer's Association to hold special events during Older Americans Month (May), World Alzheimer's Day (September 21), Alzheimer's Awareness Month (November), World Alzheimer's month or National Family Caregivers Month (November) to increase awareness and highlight activities to support people living with dementia and their care partners.
Organizing dementia-friendly nature walks in your local parks. Sponsoring outings to local zoos, aquariums and museums for people living with dementia. Momentia Seattle is an example of a grassroots movement empowering people with memory loss and their loved ones to remain connected and active in the community!
In the town of Groton, Connecticut, Jessica Patterson, the community outreach coordinator with Groton Parks and Recreation Department, launched a new Cognitive Safety and Awareness Program in partnership with Groton Senior Center and Groton Police Department. Through this program, the police department is provided critical training on how to interact with people with dementia, and families can register their loved ones who have dementia or other cognitive issues, so that the police can effectively assist them in the case of an incident. This program has seen much success and has sparked some great conversations in the community. According to one family, "This program makes us feel less unprepared and more empowered. We're doing something to help when it often feels like there's nothing we can do."
If your park and recreation department is interested in getting involved in a dementia-friendly community movement, contact Dementia Friendly America — we'd love to connect with you and help you get started!
Responding to the Coronavirus Crisis
Ensuring people living with dementia can live well at home and in their communities is important as ever as our nation addresses the coronavirus pandemic. Older adults, including people living with dementia, have been particularly hard hit by the coronavirus, which has made it difficult to get the supportive services they need, as well as the important connections to family, friends and social groups. Dementia-friendly community initiatives and Dementia Friends programs have quickly adapted to respond to this evolving situation, for example:
Memory cafés aimed at providing social support to people living with dementia and their care partners are shifting to virtual platforms.
Dementia-friendly training aimed at local businesses, organizations, faith communities (and more!) is being offered through interactive webinars. Dementia-friendly choirs have shifted online as well!
Care partner training and support groups are also shifting to online or telephone supports.
Many dementia-friendly community initiatives are sending out daily tips and videos via YouTube and social media on how to best support people with dementia and care partners during this challenging time
Communities are addressing social isolation of people with dementia through virtual gatherings, including intergenerational ones!
How You Can Help
We hope this blog post has seeded some ideas for how you and your community can support people with dementia and their care partners. Remember, every action counts — big and small!
Meredith Hanley is the Director of Community Capacity Building at the National Association of Area Agencies on Aging, which administers Dementia Friendly America and Dementia Friends.