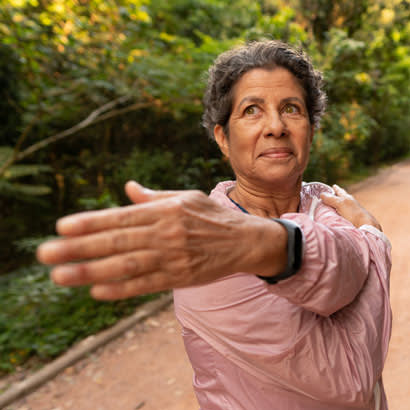 Across the United States, park and recreation agencies are a leading provider of services and recreation opportunities for older adults. Park and recreation professionals, whether working closely with partners or acting on their own, provide older adults with a wealth of resources, social activities, opportunities to serve others in the community, and most importantly, support aging in place. At the same time, chronic conditions like arthritis can implicate health-related quality of life (HRQoL) while aging in place.
Since 2016, with support from the Centers for Disease Control and Prevention (CDC)1, NRPA has worked to enhance the health, wellness and quality of life of adults living with chronic conditions like arthritis. This work has been focused on increasing the availability, participation and sustainable supports for arthritis appropriate evidence-based interventions (AAEBIs) that can help improve arthritis management, physical activity participation, and HRQoL for a portion of the more than 58 million adults in the US who are limited in everyday activities because of arthritis2.
Park and recreation agencies are seen as assets and important health and wellness change agents in their communities, and they provide optimal settings for individuals to engage in a wide range of physical activity programs. During the project period, NRPA made significant progress in expanding the availability of AAEBIs (e.g., Walk With Ease, Active Living Every Day, Fit&Strong!, Enhance®Fitness) offered through park and recreation agencies. NRPA is proud to share that as a result of this work, 360 park and recreation agencies across 49 states and American Samoa have offered AAEBIs, reaching nearly 26,000 participants!
NRPA focused on two overarching strategies to expand access to f AAEBIs to local parks and recreation. First, NRPA focused on the development of innovative delivery systems for evidence-based programming in park and recreation agencies. NRPA leveraged relationships with AAEBI program developers to provide program certification training awards, along with technical assistance, peer networking, and best practice guidance for recruitment, marketing and promotion to support the delivery of the programs in communities nationwide.
Like many other community-based organizations, park and recreation agencies adapted in order to serve their communities during the COVID-19 pandemic. The pandemic caused a large percentage of park and recreation facilities to close or operate on a limited capacity basis, which lead to a "hold" on in-person programming. To ensure that communities had access to needed physical activity and chronic disease management programs, NRPA explored the benefits of the remote (i.e., online) delivery of AAEBIs with a cohort of 9 local park and recreation agencies:
Tualatin, Oregon
Liberty, Missouri
Patterson, California
Riverside, California
Southgate, California
Mustang, Oklahoma
Manchester, Tennessee
Fort Payne, Alabama
Shreveport, Louisiana
The remote delivery pilot project proved to be effective at continuing to expand the implementation of AAEBIs offered through local parks and recreation, while also helping to bridge gaps in social connectedness among adults who would otherwise experience social isolation during the pandemic. Findings from this project informed the development of Remote Physical Activity Programs for Older Adults: A Guide to Planning and Implementation.
The second strategy focused on environmental approaches that support the long-term sustainability of AAEBIs offered by park and recreation agencies. NRPA explored efforts to better understand health payor (e.g insurers) relationships with community-based organizations and to explore what partnerships can look like. NRPA worked with representatives of community-based organizations who have successfully developed a business case for health payors to reimburse for evidence-based programs.
With support from Sound Generations, the developer of Enhance®Fitness, and with support from a healthcare consultant, Kingshott Consulting, NRPA has created a toolkit, Financing Health and Wellness Programs: A Toolkit for Park and Recreation Professionals. This resource outlines key strategies the park and recreation agencies can employ to secure funding for AAEBIs and similar programs.
NRPA also explored establishing a permanent system of referrals from the clinical setting (e.g., physician's office) to AAEBIs offered through local parks and recreation. NRPA supported, expanded, and evaluated community-clinical linkages and referral mechanisms via community integrated health collaborations (P&R agency and healthcare provider partnerships) in five communities:
Shreveport, Louisiana
Westminster, Colorado
Liberty, Missouri
Dallas, Texas
Newport, Oregon
The referral pilot project focused on identifying and referring individuals with arthritis from healthcare providers to evidence-based programs and interventions in parks and recreation. NRPA evaluated and analyzed the processes, impact and sustainability of referral systems to determine key barriers and facilitators to success.
This project highlighted the importance of community-clinical partnerships and their role in HRQoL, and that parks and recreation agencies are positioned to offer patients assistance outside of the healthcare setting to change unhealthy behaviors, while coordinating and improving access to community-based programs and services for whom their programs and services were designed. As a result of this project, NRPA developed Electronic Health Record Referral Pathways: A Guide to Development, Relationship Building and Implementation, a supplement to the previously released electronic health record guide that outlines key strategies to support the development and implementation of referral pathways to evidence-based physical activity programs from the clinical setting to the community setting.
We are proud to share that with support from the CDC3, NRPA will be able to continue this important work for the next 5-years! Equity at the Center, one of NRPA's pillars, will guide our work to expand access to evidence-based programs that improve both physical and psychosocial health for older adults among historically disenfranchised populations (e.g., Black, Indigenous, people of color, people who are low-income, people with disabilities, rural communities).
As part of this project, NRPA is excited to announce a request for proposals, Supporting Healthy Aging Through Parks and Recreation. This opportunity will support up to 55 communities to increase access, availability, participation, and sustainable support for programs that improve physical activity, engagement, and quality of life for individuals with arthritis and other chronic conditions. To learn more about this grant opportunity, please visit NRPA's Grant and Fundraising Resources website.
Tiff Cunin (they/them) is the Senior Program Manager for Health at NRPA.
---
1. This project was supported by the Centers for Disease Control and Prevention of the U.S. Department of Health and Human Services (HHS) as part of a financial assistance award totaling $2,029,099 with 100 percent funded by CDC/HHS. The contents are those of the author(s) and do not necessarily represent the official views of, nor an endorsement, by CDC/HHS, or the U.S. Government.
2. https://www.cdc.gov/chronicdisease/resources/publications/factsheets/arthritis.htm
3. This project is supported by the Centers for Disease Control and Prevention of the U.S. Department of Health and Human Services (HHS) as part of a financial assistance award totaling $460,551.00 with 100 percent funded by CDC/HHS. The contents are those of the author(s) and do not necessarily represent the official views of, nor an endorsement, by CDC/HHS, or the U.S. Government.