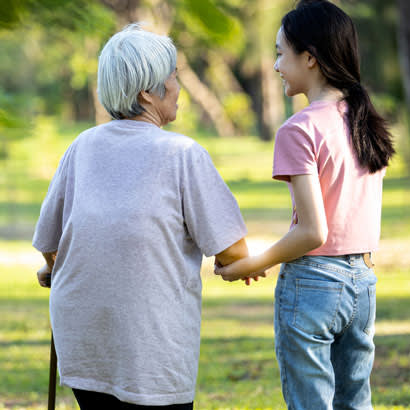 Intergenerational programs — those that intentionally connect young people and older adults in meaningful, purposeful activities — have long been effective ways to meet critical needs while building empathy and understanding across generations. But in a time of physical distancing and stay-at-home orders, when social isolation is a grave reality for so many, communities are faced with the pressing challenge of building those cross-age connections from afar.
In the midst of lockdown, East Hartford Parks and Recreation sprang into action to engage some of the most vulnerable in their community. With in-person activities on hold, they teamed up with their local senior services agency to launch a pen pal program to create meaningful connections between older adults and children of all ages through sharing letters and drawings. This quick pivot is an example of how intergenerational programs around the country are innovating and adapting their services during the coronavirus crisis.

These programs can serve as inspiration for park and recreation professionals as they explore new ways to safely meet needs in their communities that include social isolation and food insecurity.
Take ElderSource, the Area Agency on Aging and Disability Resource Center for Northeast Florida, for example. In response to increased food insecurity during the pandemic, the organization recently expanded its capacity through a partnership with Meals on Wings, a program at the University of North Florida. The program uses unserved food recovered from hospitals and engages college students to prepare and deliver meals to older adults.

These intergenerational approaches echo the sentiments of those who responded to a 2017 poll by Generations United and the Eisner Foundation. According to the response, more than 3 in 4 people wish there were more opportunities in their community for people from different age groups to meet and get to know each other. Furthermore, 61 percent of people want to see more parks, playgrounds and recreation centers that cater to all ages.
Community art is another way to connect different age groups while creating a sense of shared purpose from a safe distance. Timeslips, based in Milwaukee, promotes creativity to connect generations from a distance. They shared mural templates to create beautiful see-through art on the windows of a community. The window art can then be enjoyed from the inside and by visitors outside at a safe distance.
And while some intergenerational programs are on pause for the time being, communities are stepping up to make sure our bookend generations are not forgotten. At the weekly Encino Farmers Market in Van Nuys, California, every dollar spent supports the programs and services at ONEgeneration, an intergenerational shared site that has adapted many of its services to continue to meet the needs of seniors and at-risk youth in the community.
New ways of thinking about intergenerational programs
While we're still learning how best to connect while maintaining safe physical distancing, here are some tips Generations United has developed and shared in our new guide, Intergenerational Programs and Physical Distancing: What to do when we can't be together:
Be creative: Creativity has always been a linchpin of intergenerational programs. Now more than ever, we need to think creatively about building intergenerational relationships. Don't be afraid to try new ideas or explore unlikely partnerships.
Be responsive: Programs and activities need to address the interests and needs of participants and take into account their access to technology and their digital literacy. While many programs are shifting to online platforms, not all participants are going to be able to access these opportunities or even want to connect online. Try to meet people of all ages where they are, and plan engagement activities that fit.
Be simple: While the need for intergenerational connections is great, it is fine to start small. Connect with your most committed participants and champions of all ages. Find out what they would like to do. Test ideas and activities with small groups or start with neighbors or family members. Learn from these interactions, revise, and then expand slowly.
Be patient: In these unprecedented times, remember that staff, caregivers, families, and older and younger people may be stressed and overwhelmed. You may not hear back immediately and may have to contact partners multiple times. Many people, programs, and organizations are adjusting to using new technologies or scaling up their technical capacities. Offer support and encouragement to help them engage.
Resources to Check Out
Emily Patrick is a Senior Manager at Generations United, the national organization working to improve the lives of children, youth and older adults through intergenerational programs and practices. For more inspiration and resources to develop intergenerational programs, or to tell us about the innovative solutions you have created in your own community, visit the Generations United website.