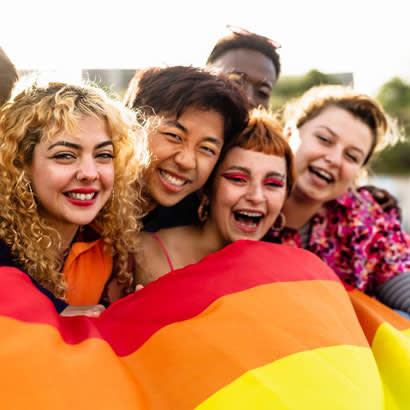 As teens continue to spend time online, it is more important than ever that students, parents and adult role models understand how to protect against cyberbullying on social media effectively. As we observe June's annual Pride Month, a month where the LGBTQ+ community celebrates in many different ways, the issue of cyberbullying for youth takes on particular urgency.
Based on the recently published 2021 NRPA Out-of-School Time Report, local park and recreation agencies are safe places where kids can go when they are not in school. With more than four in five park and recreation agencies offering Out-of-School Time (OST) programs that serve millions of children throughout the U.S., these programs provide a far-reaching and effective pathway to work with LGBTQ+ youth to protect themselves from online abuse.
A primary means for safeguarding this vulnerable population lies in the hands of parents and caregivers who monitor youths' access to the internet and social media platforms. In June alone, 26.6 percent of high school students who identified as lesbian, gay or bisexual reported being cyberbullied, compared to 14.1 percent of their heterosexual peers.
Safe space and unwavering support are key ingredients to warding off the severe stress LGBTQ+ youth chronically experience in the form of discrimination, social isolation, harassment and violence.
"With cyberbullying standing out as one of the main pathways for endangering their mental health, the adults around them can make a difference in helping them turn away from self-harm and turn toward self-respect. Starting the conversation, acknowledging their pain, teaching tools for self-protection/advocacy and modeling effective behavior let them know someone is standing up, standing by and celebrating who they are," says Karen Goldberg, a licensed clinical social worker and author of Stand for the Silent's (SFTS) Cyberbullying Survival Guide.
Combatting cyberbullying can feel overwhelming, and the internet can seem like an endlessly dangerous place with new trends popping up every day. Understanding basic safety features built into most social media platforms is an important starting place for teens and parents to start the conversation about cyberbullying, which include:
Encouraging private social media accounts: When a social media account is set to private, the account owner can choose who follows them and who can see their content. If an account is public, anyone can see and comment on an account's photos, videos and stories, increasing the risk of exposure to online harassment.
Implementing direct message and engagement controls: In the account settings menu of most social media platforms, individual account owners can choose who can message them, who can comment on their content and who can directly mention them in a post. These features allow social media users to customize exactly who can and cannot talk to them online.
Understanding options for restricting and blocking accounts: Social media platforms allow account owners to restrict and block other users for any reason. Restrict mode allows users to protect their accounts and keep an eye on someone who may be bullying them without making them aware. The block feature will prevent other users from seeing an account's posts, stories, live broadcasts and photos. When blocking an account, the other person is not notified, and they can be unblocked at any time.
In addition to these tactics, here are some additional resources that can help enhance safety online for teens:
When it comes to LGBTQ+ youth, "it's key to remember that every kid is different - every kid is coming from a different home situation, every kid has a different support situation," said Alex Alterman, a member of the LGBTQ+ community and a Washington, DC-based real estate professional. "I was fortunate to have a supportive family, but not everybody has that, so you might be the only adult. As a teacher, mentor, or as their sports coach, you might be the only adult in their life that they feel comfortable with and feel comfortable speaking to. So, I think you need to be aware of your role in their life, be open to what they have to say to you, and be willing to protect them and stand up for them – they might not have anybody else who plays that role in their life. So, I think your role is really important."
Stand for the Silent is an international nonprofit that empowers youth and communities to create cultures of kindness and stand up to bullying.