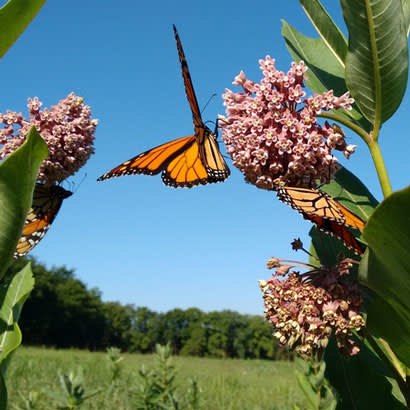 One of the more difficult tasks in creating high-quality pollinator habitat is preparing the land for planting before you can plant native wildflowers and season-long nectar-bearing flowering plants for pollinators. In fact, it is sometimes so difficult to get the land properly prepared for planting pollinator habitats that some park and rec agencies give up before they get started. But there is one method that is completely organic, works great, is simple to do and can be done largely with volunteers: solarization.
Covering your planned pollinator beds with heavy-duty clear plastic is a sure-fire way to easily kill weeds and prepare your planting area in a safe, non-toxic way. If done correctly, solarization will kill even the most aggressive weeds and can even reduce the seed bank of many weed seeds, including invasive plants, leaving your soil clean and ready for planting perennial native plants. Solarization is perfect for creating smaller pollinator habitats, and small plots can be planted in a variety of locations in parks — at athletic complexes, along trails, near rec centers — where you want to create beneficial pollinator-friendly habitats.
To solarize effectively, all you need to do is knock down existing vegetation with aggressive mowing and then disk or cultivate the land with a cutting implement. If you don't have a tractor and disk, you can often put out the word to local farmers, landscapers or large landowners who might be glad to donate their time and equipment to help you prepare some beds. Or, you can call your local soil conservation district who may have this equipment precisely for the purpose of helping landowners create pollinator and wildlife-friendly habitat. Cultivation is recommended in most instances, but if you don't have the equipment, you can find donations or loans of what you need fairly easily if you just ask.
Once you have vegetation cut down and disked in or otherwise thoroughly cut up, all you need to do is spread heavy-duty clear plastic, preferable 6mm thick, over the prepared land. You don't need high-grade clear plastic, but the clearer the better. Construction grade clear 6mm plastic from big box stores works fine. It will usually be in stock in 10'x100' rolls, sometimes in 20'x100' rolls, as well. You can also find this at construction supply stores or greenhouse and garden wholesale suppliers. A 100' roll of UV stable plastic is not terribly expensive — $75-100, depending on thickness and quality — and if you carefully remove it after use, you can use it again, possibly for several years.
Just lay out the plastic over the prepared bed — preferably a day after it rains or is irrigated to help build heat — and secure the edges either by digging a shallow trench by hoes and shovels so you can bury the edges, or alternatively, weight the edges with bricks or stones — but be mindful that a strong wind can get under your cover and blow it off. Also, weigh down any overlaps in the center if your plot is larger than the width of the plastic, or use greenhouse repair tape to seal interior edges or inadvertent tears in the plastic. Voila! That's it.
Solarization works best in hot weather and in full sun, so plan for best solar exposure and as much sun as possible during the day on your beds. You can use solarization to prepare pollinator beds in the spring to be ready for late spring and early summer planting of annuals and some perennials, or apply the plastic for the full summer for fall planting of perennial seeds and plants. Treatment time to kill all the weeds will vary. It will take 4-8 weeks depending on your climate, and land will be ready for planting for about a month, but the sooner you can plant, the better. The more heat that builds up, the more weed-killing power there will be for weeds and weed seeds, but aggressive and invasive weeds are tough to kill. Don't let new weeds get started before you plant your wildflowers.
Solarization for pollinator beds is a great project to do with volunteers and even kids groups. It doesn't take much time or preparation and is one of the most effective ways to prepare pollinator habitats for planting. There is excellent information online from the Xerces Society, and you can download their full guidelines for organic site preparation.
Native wildflower seed mixes are available from a variety of seed suppliers, and you can easily match the quantity of seed for the size of your beds. Look for regionally grown seeds and follow the simple planting instructions. Once your soil is prepared, seeding your beds is a piece of cake.
What are you waiting for? Pollinator Week, June 22-28, 2020, is a great time to prepare a pollinator habitat for fall planting. You will be amazed at the profusion of pollinator-friendly, nectar-bearing wildflowers you will have next spring!
Besides preparing a pollinator habitat, you can also celebrate Pollinator week by sharing your photos and the ways you're protecting pollinators on social media using the hashtag #Parks4Pollinators. You can also sign up to host a Parks for Pollinators BioBlitz this September in your own community and receive tools to help you plan a BioBlitz with physical distancing in mind. If your agency signs up to host a BioBlitz during the month of September, not only will you be helping raise pollinator awareness, you will also be entered to win a $1,000 prize and one of three Scotts Miracle-Gro prize packs to help with your pollinator habitats or programs!
Richard J. Dolesh is Editor at Large for Parks & Recreation magazine.