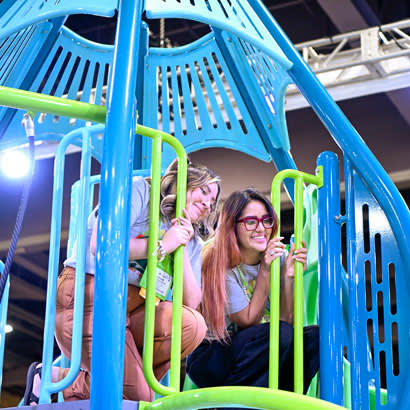 Pictured: Attendees at the 2022 NRPA Annual Conference explore playground equipment in the Exhibit Hall. Photo courtesy of Caught in the Moment Photography.
When you enter the NRPA Annual Conference Exhibit Hall, you're greeted with fun as far as you can see.
Want to swing? Just visit one of the fully assembled playgrounds. Walk on astroturf? There's a booth for that. Test out anything your park and recreation organization could need, from splash parks to bleachers to accessible sports equipment? Check, check and another check.
That's the joy of the NRPA Annual Conference Exhibit Hall. Every year, nearly 500 partners and vendors set up booths and interactive exhibits, giving you an inside look at the latest products for our field.
Just one of these amazing exhibitors is PlayCore, an organization that helps build stronger communities by advancing play and recreation in outdoor spaces. PlayCore has been exhibiting at the NRPA Annual Conference for more than 21 years!
When we asked Anne-Marie Spencer, corporate vice president of marketing at PlayCore, why the team comes back year after year, she had a simple answer: the people and the atmosphere.
"The NRPA Annual Conference is really – more than anything else for us – an opportunity to listen and learn and serve," Spencer said. "There's nothing quite as valuable as conversations with those working in the park and recreation industry. These conversations help guide our research, what we focus on in the coming year, our work, so we can best serve these professionals."
When you visit PlayCore's booth at the 2023 NRPA Annual Conference Exhibit Hall, you get to share how YOU most want support in your work.
For example, the PlayCore team learned through conversations that more and more park and recreation professionals are focused on inclusive offerings, but aren't quite sure how to incorporate them into their own parks. So, they worked with an expert to create a guide to building inclusive playgrounds.
One of Spencer's favorite parts of the conference is standing by the doors when the Exhibit Hall opens and seeing all the excited attendees stream in, ready to explore.
Attendees enter the Exhibit Hall at the 2022 NRPA Annual Conference in Phoenix, Arizona. Photo by Caught in the Moment Photography.
Spencer talks about the atmosphere, saying, "The best word I can use to describe it is electric. It's fun, it's welcoming, it's inspiring. The attendees make it what it is. I love the passion, the dedication of people in this profession. Everyone has a great time."
Other attendees compare the Exhibit Hall to an amusement park, with so many interactive exhibits to explore, games to play and prizes to win.
"We're bringing playgrounds, aquatics – splash parks and everything you would need to set up a competitive pool – bleachers, dog parks, climbing equipment…basically if you walk through our area, it will feel like you're walking through one really amazing park with everything you could imagine," Spencer shared.
Every year, the PlayCore team starts planning their time at the NRPA Annual Conference months in advance – putting together a hands-on exhibit based on what park and recreation professionals like you want to see! How dedicated are they to this experience? It takes the team longer to set up the exhibit than the Exhibit Hall lasts.
Now THAT is a commitment to a great, interactive experience.
From PlayCore's exhibits to live tech demonstrations to a Pickleball Zone, the Exhibit Hall offers something for everyone – and is one of the most fun parts of the NRPA Annual Conference!
Swing by the Exhibit Hall on Tuesday, October 10, from 10:30 a.m. to 4:30 p.m. CDT, and Wednesday, October 11, from 10:30 a.m. to 3 p.m. CDT — we can't wait to see you there.


Learn more about the exhibitors and the Annual Conference here!


Ruth Wheeler (she/her) is a senior corporate business development officer at NRPA.