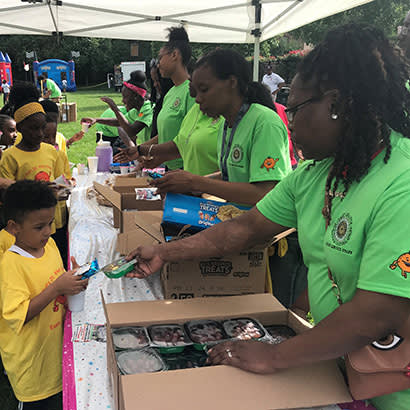 August is a huge opportunity for you to show your members of Congress how your agency is making their home districts and states happier, healthier and more economically vibrant places to live and play! If you have an exciting summer program, ribbon cutting, park dedication or special summer event, don't forget to invite your members of Congress.
From inviting members of Congress to help pass out meals at your summer or after-school meal program to having them cut the ribbon at your park opening, you can provide elected officials with a powerful experience that demonstrates the importance of your parks and programs first-hand. During the August recess, members of Congress are seeking out opportunities to interact with constituents. With unbeatable assets like a deep connection to your local community and stellar parks and facilities, you can offer members of Congress a chance to connect with constituents in a picture-perfect setting. Whether your agency has already received federal funding or if you hope to receive it in the future, your agency can build an ally in their members of Congress by inviting them to participate in events.
Here are some great ideas for you to get your members of Congress involved:
Make the case for child nutrition programs by having them help pass out meals at your summer or after-school meal program!
Ag-vocate for parks and recreation in the Farm Bill by having them plant or harvest at your community garden!
Demonstrate why the Land and Water Conservation Fund should be reauthorized by having them attend an event at an LWCF-funded park!
Talk the talk and walk the walk (or bike the bike!) by having them take a hike or bike ride on a federally-funded trail project!
Show the community behind your Community Development Block Grant by giving them a tour of a CDBG-funded park or program!
By hosting a member of Congress or their staff at an event, you'll get more than just a warm and fuzzy feeling you'll get from advocating for the future of parks and recreation. You'll also be eligible for the 2018 Park Champion of the Year Award! Host your members of Congress or staff by August 31st and share your event on this page to be eligible to win. The winner will receive recognition at NRPA's Annual Conference in Indy, a feature in Parks and Recreation magazine, and roundtrip airfare and lodging for two in your agency to travel to Washington, D.C., in spring 2019!
Park Champion Tip: Senate Majority Leader Mitch McConnell recently announced that he's shortening the August recess, so, in addition to weekends, Senators may be home for just one week: Saturday, August 4th through Sunday, August 12th. The House, however, will be in recess from this Saturday, July 28th all the way through Labor Day. Remember, even if your event doesn't line up with recess, you should still invite your members of Congress! If they can't attend, ask their staff to come instead.