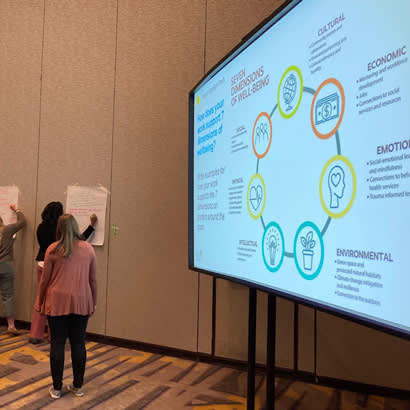 Pictured: Attendees at the National CACFP Sponsors Association Conference share their ideas for advancing the seven dimensions of wellbeing.
In early April, a colleague and I had the chance to travel to San Diego, California, to present at the National Child and Adult Care Food Program (CACFP) Sponsors Association Conference. We were excited to join and lift up the role that park and recreation professionals play in serving essential meals to their community members through CACFP and all of the federal nutrition programs and to meet the great partners who support this work.
In our session, we presented on NRPA's Community Wellness Hub model and the role that partnerships play in creating strong, interconnected systems of support to ensure that all community members have access to the essential programs, services and spaces that advance health equity, improve health outcomes and enhance quality of life.
To set the stage for our conversation, we focused on the idea that Community Wellness Hubs should be designed to advance health and wellness across seven interdependent and interconnected dimensions of well-being — cultural, economic, emotional, environmental, intellectual, physical and social. Park and recreation professionals and their partners can implement a variety of policy, environmental and behavior change strategies in alignment with each of these dimensions to function as a Community Wellness Hub.
We know that while the concept of a Community Wellness Hub may seem innovative, the work and ideas that contribute to a hub are happening every day. To prove our point, we invited session participants to visit large posters around the room and share the ways in which they're advancing each of the seven dimensions in their everyday practices. Check out some of the amazing ideas they had below!
These are examples of just some of the incredible work being done in communities all across the country to support health and well-being. We invite you to share how you're advancing these dimensions within your work and how your own Community Wellness Hub is creating a positive change for your neighbors.
Maureen Neumann (she/her) is an NRPA Senior Program Manager.