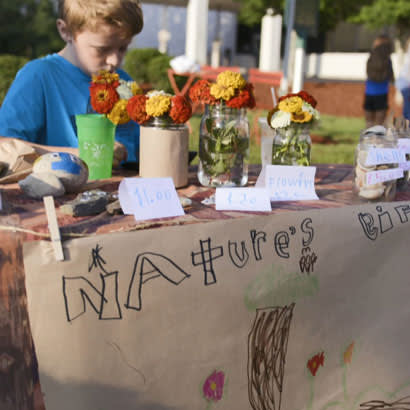 A family steps onto a bus in Arkansas; a group of children set out fruits and vegetables to sell in Kentucky; community members of all ages gather around communal tables in Vermont. The settings may be different, but each set the stage for far-reaching benefits in each community — improved access to nutritional foods.
In 2019, NRPA, with support from the Walmart Foundation, awarded $1.5 million in funding to 27 park and recreation agencies — 17 in an innovation cohort and 10 in a rural cohort — through the Increasing Access to Healthy Meals in Parks grant. Funding for the innovation cohort supports innovative strategies to:
Address transportation barriers by leveraging local assets and piloting innovative models.
Start or expand farmers markets or community-supported agriculture programs at park and recreation sites.
Start or expand intergenerational meal programs at park and recreation sites.
During the summer, NRPA visited three agencies that received funding in the innovation cohort to see these strategies in action. See the highlights of each strategy in the following videos:
Transportation Increases Access to Healthy Meals in Arkansas
Junior Farmers Market in Berea, Kentucky Increases Access to Healthy Foods
Connecting Generations Through Healthy Foods in Burlington, Vermont
Learn more about NRPA's Commit to Health campaign, which supports the goals of improving healthy food access, reducing obesity and chronic disease, and fostering social supports at local park and recreation sites.
Jennifer Nguyen is NRPA's Communications Manager.