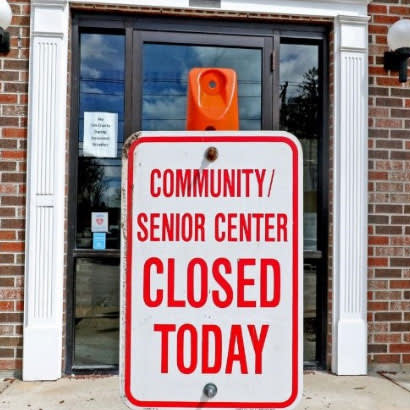 Pictured left: A sign implying that a community/senior center is closed for the day. Photo courtesy of The Westerly Sun.
It's been several months of reinventing our way of life as we navigate the COVID-19 pandemic. Through it all, park and recreation professionals have continued to move forward as they respond to local surges in COVID-19 cases, as well as create and implement a path to recovery. This means most are now offering activities like sports programs on golf courses, tennis and basketball courts, and outdoor sports fields, opening community gardens, and trying to figure out the "new normal" at their facilities. But, even though many agencies are offering various programs and services, according to the latest NPRA Park Snapshot results, nearly 57 percent of all senior centers still remain closed.
We know that older adults are more vulnerable to COVID-19 (8 out of 10 COVID-19 deaths reported have been in people 65 years and older) and most are still sheltering-in-place. Many older adults are unable to visit senior centers to engage with their group of friends, enjoy meals in a congregate setting, or engage in various programs and events. Furthermore, COVID-19 studies are showing that the rapid transmission and surges of COVID-19, high mortality rate, self-isolation, and physical distancing are beginning to exacerbate the risk of mental health problems. According to the Centers for Disease Control and Prevention (CDC), prior to COVID-19, as many as one-fourth of adults 65 and older were socially isolated, and a recent report from Cigna Health stated there is research that suggests loneliness in older adults may have the same effect on mortality as smoking 15 cigarettes a day.
Serving Older Adults Remotely
To continue to serve older adults during the pandemic, many park and recreation professionals and their agencies have turned to remote programming and activities to keep older adults engaged and connected. For example, at the Juanita Pohl Center in Tualatin, Oregon, once announcements of the center closure were released, staff updated the center's website to get the word out about their new and upcoming remote programs and services. Since March they have been offering remote fitness programs like aerobic exercise, yoga and Tai Chi. They are also offering enrichment programs that include webinars with various topics such as a monthly social hour, how to use Zoom and technology to stay connected, how to be an LGBTQ+ ally and many more. They have done this by posting videos on the city's YouTube page and hosting live sessions on Zoom. To date, they have reached over 1,400 individuals during the pandemic.
However, remote programs are not accessible and feasible for many, and some older adults are eager to get back to their norm.
So where does this leave park and recreation professionals in areas where restrictions have been lifted and they are able to reopen? The question of whether senior centers should reopen or remain closed lingers and is a constant struggle. Below are some tips and recommendations for how you might start to navigate this big question as you try to meet the needs and demands of the older adult population you serve, as well as ensure you are adhering to public health guidelines and doing your part to keep those you serve safe.
Considerations for Reopening
1. Know where your community stands
If your agency is considering reopening, a good starting place is to review CDC's guidance and connect with your local public health officials to get a better understanding of where your community stands and for their latest guidance for reopening. You can also refer to the COVID-19 Directory created by the National Association of County and City Health Officials (NACCHO) to find information about your local health department's COVID-19 information. If after reviewing this guidance, you are still unsure as to how safety would be maintained, it might be a good idea to remain closed until the proper resources are obtained to keep people safe.
During this phase, it is also good practice to get an updated read on your community.
What are your older adults needing currently?
Is there a high desire for in-person programs and services?
How are they feeling about resuming in-person programs and services?
What would they need in place to feel safe?
What programs are services will they want prioritized upon reopening?
Are they open to indoor and/or outdoors programs?
2. Obtain resources and communicate new procedures
Many new procedures may need to be developed and put in place before reopening. Some of those procedures may be:
Obtaining resources to keep people safe (e.g., hand sanitizers, masks, etc.)
Developing scheduled times to sanitize the facility daily or after each use (i.e., wiping down tables, chairs, equipment, etc.)
Rearranging areas to allow for physical distancing
Creating a process to track anyone for contact purposes if they have tested positive
Ensuring that the ventilation system is working properly and, if possible, open windows and doors, to circulate outdoor air
Teaching participants how to safely use the restroom at your facility
Being prepared to close if necessary and how to communicate this to the participants
Any new procedures being implemented due to COVID-19 should be communicated to all potential participants. This may involve designing new brochures, posting on social media, updating your website and posting signage throughout the facility outlining these new procedures. Some of the content may provide guidance for:
3. Protect staff and volunteers
In addition to providing a safe and healthy environment for participants, it is equally important that there are protocols in place to protect your staff and volunteers. A helpful resource may be the COVID-19 planning guidance that was developed by the Occupational Safety and Health Administration (OSHA) to provide guidance on how to create a healthy and safe work environment during COVID-19. Other examples from states that have developed reopening protocols are Vermont's Guidance and Senior Center Self-Assessment Tool and Pennsylvania Association of Senior Centers Re-opening Recommendations.
Things to consider for staff and volunteers:
Develop staff training for:

New staff responsibilities
Sanitation procedures
Proper use of personal protective equipment (PPE)
Appropriate physical distancing
Knowledge about how to effectively communicate new procedures and protocols to participants and how to handle combative situations

Stress the importance of frequent handwashing with soap and warm water
Adjust workspaces to ensure proper physical distancing (configuring partitions, rearranging furniture, installing signage, marking floors, installing directional markers, etc.)
Require face coverings in the workplace
Park and recreation staff in Mustang, Oklahoma, began offering limited in-person programs in June with reduced hours. Currently, more than 50 percent of their participants have returned to their center for in-person programs and services, but there are many that are still not comfortable leaving home. To prepare for in-person programs and continue to keep people safe while using the facilities, staff have taken several measures:
Conducted training for staff and volunteers on the agency procedures to keep both staff and community members safe
Created a vigorous cleaning schedule where tables, chairs and bathrooms are cleaned often
Upon entry, participants read a list of COVID symptoms and sign that they are not experiencing any of them (this also allows them to monitor those in the facility for contact tracing if necessary)
Practiced distancing by spacing chairs for physical activity programs and in the dining area
Stored exercise equipment such as weights and resistance bands for each participant in separate containers that are labeled with each participant's name
Eliminated all food during games such as bingo and cards
Offered laminated paper bingo cards in lieu of the re-usable cards
For additional strategies along with tips on phased approaches to reopening, watch the Guidance for Resuming On-Site Senior Center Operations that was developed by the National Council on Aging (NCOA).
Moving Forward
Given the fact that there are frequent COVID-19 protocol updates, it is likely that when you begin implementing reopening plans that the CDC, state health officials and/or local health officials have changed, or are in the process of changing, guidelines as the cases of COVID-19 climb or decline in local communities. It is important to regularly check the CDC website along with your local health officials for updated recommendations on preventive measures and be prepared to modify procedures as guidelines are updated. And, be prepared to halt reopening if the data is telling you that it is not the best time to reopen. The question of whether to open or remained closed is one we know cannot be taken lightly. After all, lives are at stake.
For more information about NRPA's response to COVID-19, as well as available resources for park and recreation professionals, please see our Coronavirus Disease 2019 (COVID-19) webpage.
Colleen Pittard is NRPA's Partnership Manager and Lesha Spencer-Brown, MPH, CPH, is NRPA's Senior Program Manager.