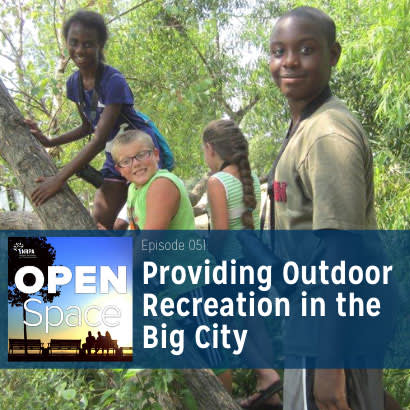 When people think of outdoor recreation, their first thought may not of an urban setting. On this episode of Open Space Radio, we're talking with two people who know a lot about the challenges of providing outdoor recreation opportunities in urban areas. When we were at the 2019 NRPA Annual Conference in Baltimore last month, we had the chance to sit down with a few of the staff from our local host agency, Baltimore City Recreation and Parks.
Tune in below to hear our conversation with Molly Gallant, an outdoor recreation programmer (aka the park princess), and Bob Wall, the deputy director of Baltimore City Recreation and Parks, about programs they've implemented to make sure kids in the city of Baltimore have access to quality outdoor recreation opportunities close to home — like their youth fishing program, among others.
We talk about the importance of providing access to outdoor recreation opportunities — and park and recreation's role as a mentor — in fostering future stewards of public lands. We also discuss the ways that outdoor recreation can break down barriers, the partnerships that have helped along the way, and what access to outdoor recreation opportunities means to Molly and Bob personally.


Listen to the episode for the full story.