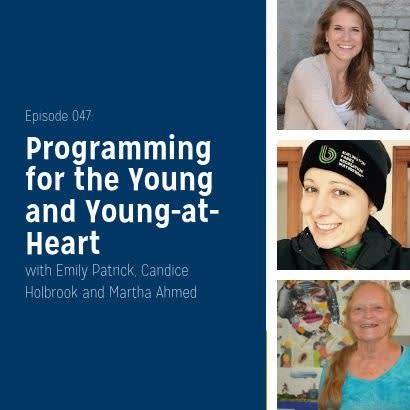 In this episode we are taking on some listener requests for more podcasts on park and recreation programming (P.S. we'd love to hear your requests for episodes, so email Roxanne or Cort with your ideas!).
Today, we're looking at intergenerational programming – what it is, how it's working in the field and how it's impacting those who participate in the programs. We interviewed three people in order to collect these different perspectives and you'll likely notice that our mics and audio sound a bit different interview to interview as they were done in different locations.
First, you'll hear from Emily Patrick of Generations United. She is dedicated to promoting and educating people about the benefits of intergenerational programs.
Second, you'll hear from Candice Holbrook from the Department of Parks, Recreation and Waterfront in Burlington, Vermont where she manages intergenerational programming.
Third, you'll hear from Martha Ahmed, an older adult who participates in intergenerational programming in Burlington.
Some key takeaways from this episode:
Interactions between older adults and youth can provide mental and emotional health benefits to both groups and help with loneliness and isolation.
Intergenerational programs can involve older adults serving youth, youth serving older adults, multiple generations working together to serve others, and an organization providing services to both groups at the same time.
You can start intergenerational programming with the resources you have now — perhaps by combining activities between two existing programs.
The intergenerational experience truly makes a positive impact on those involved.
Resources mentioned in this episode and related resources:
Don't forget, if you're attending the NRPA Annual Conference, you can visit Cort and me at Booth 1519 to participate in on-the-spot interviews and get your Open Space Radio sticker!
Listen to the episode for the full story.