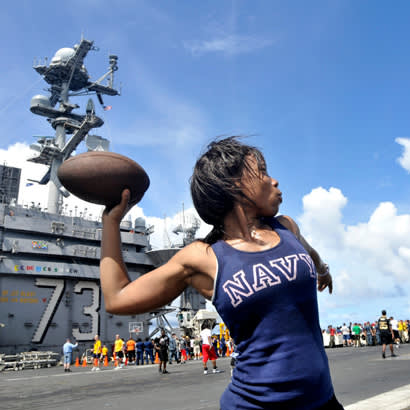 Pictured: Machinist's Mate Fireman Chekaira Franklin from Detroit throws a football during a steel beach picnic on board USS George Washington. Photo courtesy of U.S. Navy, taken by Mass Communication Specialist 3rd Class David Cox.
The June issue of Parks & Recreation magazine is out now, and on today's bonus episode of the podcast, we're diving deeper into one of this month's feature stories, "Leading the Way to Health and Well-Being: How Armed Forces Recreation Fosters Healthy Military Communities."
The article, written by Allison Colman, NRPA's director of health, and Alex Reynolds, Parks & Recreation magazine's associate editor, highlights how park and recreation professionals working within military communities share the same goal as their peers in local agencies — to support their community's health, well-being and quality of life through recreation.
I'm thrilled to be joined by two of the professionals highlighted in the article, Shandy Scott, GS-13, the business and recreation branch chief for the Air Force Morale, Welfare and Recreation (MWR) programs in San Antonio, Texas, and Lisa Sexauer, director of fleet readiness for Navy Installations Command in Washington, D.C.
Tune in to our full conversation below to learn more about the work Scott and Sexauer are doing to keep military families in their respective branches healthy and active through parks and recreation. You'll also learn:
The role that Armed Forces Recreation/MWR professionals play in the military and communities
What benefits MWR provides for service members, families, and communities
Current challenges impacting Armed Forces Recreation/MWR divisions and professionals and how they are being addressed
How Armed Forces Recreation/MWR and municipal park and recreation departments can partner to address and promote the health and well-being of all people
How Armed Forces Recreation/MWR is centering equity and shifting to a deeper focus on mental health and well-being in its efforts, and much more!
Listen to the episode for the full story.