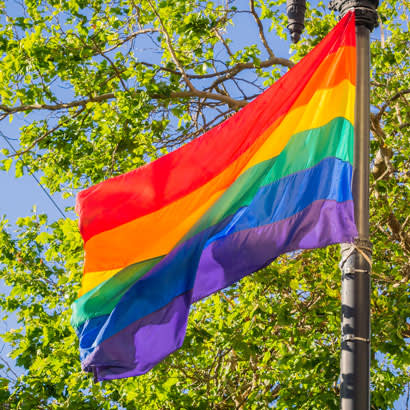 During the early morning hours of June 28, 1969, a group of gay, lesbian, bisexual, transgender and genderqueer people stood up and said, "we're not going." It was this moment at the Stonewall Inn in New York City that the gay pride movement was born and right at the center of it all was a park.
Christopher Park, across from the Stonewall Inn, was at the center of the LGBTQ+ community in Greenwich Village. In the 1960s, LGBTQ+ people faced a crackdown by city and state governments forcing them to hide in remote corners of cities to avoid police brutality and arrest. Youth would flee oppressive homes and towns often ending up at Christopher Park, now a national park site. This park and others were among the places that LGBTQ+ people would gather to escape and seek refuge.
However, this often resulted in parks being targeted by police and LGBTQ+ people were evicted and arrested for, among other reasons, dancing with someone of the same sex or wearing clothes of the perceived opposite gender. The most extreme sentences included life in prison or a mental institution, where they would endure horrific procedures. Time after time LGBTQ+ people were pushed out of places where they sought refuge, and on June 28, they rebelled when police raided the Stonewall Inn, resulting in the uprising that would change the course of LGBTQ+ history.
Days after the uprising, LGBTQ+ people continued to gather in Christopher Park to voice their demand for gay rights. A year after Stonewall, the first pride marches gathered thousands of people, for the first time, to openly march through the streets. According to reporting by the New York Times, marchers chanted "say it loud, gay is proud" and declared that "the main thing we have to understand… is that we're different, but we're not inferior." The New York City march went 15 blocks down Christopher Street, past Stonewall and Christopher Park, to Central Park where they gathered and celebrated.
Parks play many important roles in our communities with freedom of expression among them. Central to the mission of public parks is the idea that all people — no matter the color of their skin, age, income level, ability, sexual orientation or gender identity — have access to and feel safe at their local parks. For many communities that experience discrimination, including the LGTBQ+ community, that has not always been the case — and still isn't everywhere.
The oppression and discrimination of LGBTQ+ people continues to have a lasting impact on their health and wellbeing. Studies show that LGBTQ+ people, and youth, in particular, are at a higher risk for mental health issues, substance abuse, homelessness and suicide, with transgender people and people of color facing even higher risks.
In 2018, NRPA published the Park and Recreation Inclusion Report on how park and recreation agencies are serving all members of their community. The report shows that many agencies face significant challenges with inclusion. Limited staff and funds were the greatest of those challenges, making it difficult to serve those who need parks and recreation the most. In other cases, agencies lack a clear understanding of the needs and desires of members of the community. Currently, only 30 percent of agencies deliver programs targeted to the LGBTQ+ community. As industry professionals, we know the many benefits of parks and recreation and how they can help address the health disparities faced by underserved communities, including the LGBTQ+ community.
NRPA has made a formal commitment to the Partnership for Inclusive Health's Commit to Inclusion initiative to ensure all people feel safe and welcome to engage with parks and recreation. Through programming, partnerships with LGBTQ+ organizations, staff training, policies, built environment additions like gender-neutral restrooms, and visibility of these initiatives, local park and recreation agencies can help support their LGBTQ+ constituents. NRPA's Parks for Inclusion initiative provides tools and resources for agencies to address these issues and improve access to health and wellness activities in parks for all.
This month, my partner and I will go to our local parks and public spaces, just as they did 50 years ago, to celebrate the contributions of the LGBTQ+ community, the progress of our community, and continue to advocate for more inclusive laws and policies, including in parks and recreation.
Happy Pride Month!
Jared Mummert is a Program Specialist for NRPA.