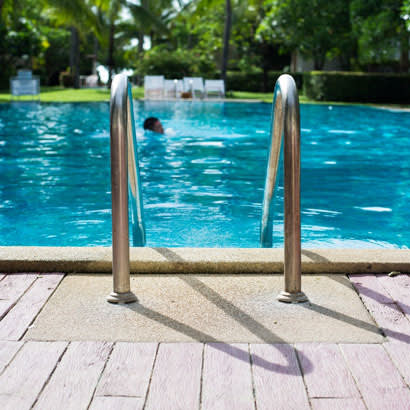 It might be hard to imagine, but summer will be here before you know it! And while it might still feel like winter outside, it is never too early to start thinking about a favorite summer pastime — swimming. Within a few months, your agency's pools and spas will be in high demand, filled with hundreds of kids and families seeking some fun in the sun.
However, any visit to the pool can turn into a tragic one if simple safety precautions are not taken. Drowning remains the number one cause of unintentional death for children ages 1-4. Between simple training, education and enforcement activities, the vast majority of pool-related injuries and deaths can be prevented. The good news is there are plenty of resources available to ensure your pool is safe this summer and for many more summers to come!
Pool Safely Campaign
The U.S. Consumer Product Safety Commission (CPSC) is committed to making drowning and drain entrapment prevention a critical public safety priority. CPSC's Pool Safely: Simple Steps to Save Lives national public education campaign is a call-to-action for consumers and the industry to adopt simple water safety steps that prevent pool-related injuries. Through simple measures such as education and training, pool operators can reduce the number of preventable deaths and injuries from drownings, submersion injuries and drain entrapment in pools and spas.
CPSC has a host of educational materials for communities, parents and families, and other water-safety resources available their website.
Pool Safely Grant Program
CPSC is currently accepting applications for the 2018 Pool Safely Grant Program (PSGP). The purpose of this program is to prevent pool and spa drownings and drain entrapments. State and local governments can apply for funding to support education, training and enforcement of pool safety requirements that are intended to save lives and prevent serious injuries.
At least 50 percent of the grant must be used to hire and train enforcement personnel for implementation and enforcement of standards under the state or local swimming pool and safety law.
Remaining grant funds may be used for the following eligible activities:
Educate pool construction and installation companies and pool service companies about the standards;
Educate pool owners, pool operators and other members of the public about the standards under the swimming pool and spa safety law and about the prevention of drowning or entrapment of children using swimming pools and spas; and to
Defray administrative costs associated with such training and education programs.
A total of $1.1 million will be distributed to support grants ranging from $50,000 to $250,000 for a two-year project period. There are no cost-sharing or match requirements for this grant program.
Applications must be received by April 2, 2018. Award notifications are anticipated to be made on July 2, 2018, and the project period will begin on July 16, 2018.
Additional program information, including the recording of an informational program webinar, is available here. Questions regarding this program should be directed to the CPSC or 301.504.7908.
Interested in Other Grant Opportunities?
Browse a list of current NRPA grants and other open grant opportunities.
Cassie Pais is a Development Officer for NRPA.
Kate Clabaugh is NRPA's Senior Government Affairs Manager.