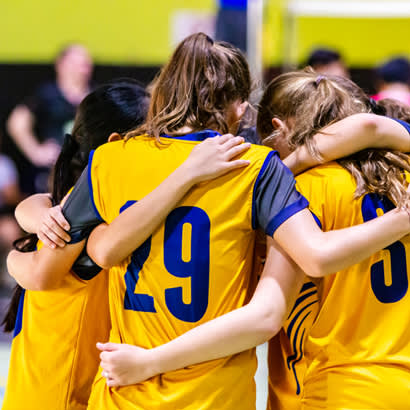 The benefits of youth sports are clear and rarely debated amongst park and recreation professionals. Not only do youth sports provide key opportunities for children to be physically active, but they also offer numerous occasions for them to be social, build friendships, learn to work as a team, work through conflict and challenge themselves.
The management of youth sports programs and leagues is not without its challenges. One issue that is at the forefront of program administrators' minds is participation. Most recently, the conversation surrounding participation has centered around the number of female participants and why we are losing them. Alarmingly, by the age of 14, girls are leaving organized sports at twice the rate of boys. This gap continues to grow into the teen years and even into adulthood, leaving women with fewer opportunities to benefit from an active lifestyle.
While this statistic is worrying, it is often overlooked and is labeled as "unfortunate but unavoidable" by league administrators, coaches and parents. At a young age, girls and boys enter youth sports at approximately the same rate, but as they age, the participation gap widens. It is no secret that more boys are participating in youth sports than girls. Title IX states, "No person in the United States shall, on the basis of sex, be excluded from participation in, be denied the benefits of, or be subjected to discrimination under any education program or activity receiving federal financial assistance."But with all the progress that has been made toward equality in sports, there are still fewer opportunities for girls to play sports in the U.S. than boys.
The key to closing the gap is to recognize why girls leave youth sports in larger numbers than boys and to implement retention strategies that allow girls to benefit from sports into their adulthood. Knowing the importance of an active lifestyle, what can park and recreation professionals do to keep girls in the game?
Prioritize Scheduling and Opportunities
For park and recreation professionals, planning and programming are at the forefront of our minds. Move toward integrating more equity in your programming, concentrating on making opportunities equal for girls and boys. Use diverse imagery and language in your program promotion. When scheduling, look at how resources are allocated.
Coach and Volunteer Recruitment and Training
Coaches are arguably the most significant factor in shaping a player's experience. Encourage women to volunteer as coaches even if they do not have experience in the sport. Offer robust training on the values of your program, and specifically, what girls need to be successful in sports. Be open with your volunteers and staff about the reasons why girls leave sports and train them to understand the impact they have on their player's experience.
Promote Positive Team Dynamics
While the focus of team sports is primarily on athletics, fostering a positive team dynamic will build trust between your players and coaching staff. Team dynamics are more than how players work together on the field. How players interact with each other socially will impact their experience significantly. Some girls participate in sports for competition and some participate in sports for fun — most teams will be made up of both types of athletes. Recognize that both experiences are important and teach players to leave the competition on the field when possible. Model this with your own behavior.
Encourage Multi-Sport Athletes
The trend in youth sports to identify "your sport" at an early age contributes to girls leaving athletics in their teen years. Encouraging girls to participate in a wide variety of sports will keep them from getting "burnt out" on one sport early and allow them to find what type of activities they enjoy most.
Celebrate Girls
The playground term "play like a girl" and its negative connotation does reflect the overall view of women's sports. While there has been significant work done since the introduction of Title IX, nationally, there are still fewer opportunities for girls to participate in athletics than boys. Find ways to celebrate girls in sports. Attend events where the athletes are female, talk about the challenges for girls with your organization, and try not to simply lump girls in with the boys. Seek opportunities to talk about positive role models in women's sports and find ways to incorporate them into your programming.
Making athletics a safe space for girls is vital to keeping them involved. It is essential to look at the big picture of how an active lifestyle contributes to a woman's overall health and well-being — not just a single game or season.
Nikki Taylor, CPRP (she/her), is a youth program coordinator for Town of Bedford Recreation Department in Massachusetts.
This blog post was written in partnership with the NRPA Young Professionals Network (YPN). Learn more about the NRPA YPN on NRPA Connect or on the YPN Facebook group.