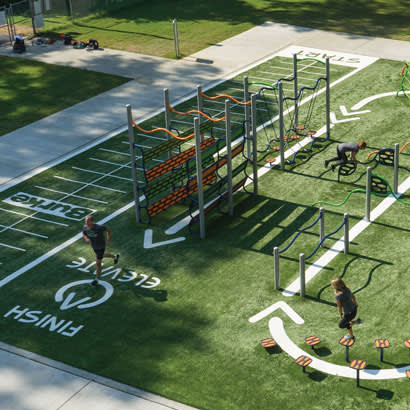 Spending time outdoors is innate within us. We lose sight of it sometimes, certainly. But when we're there, it just feels right. But it's more than a feeling — science backs us up. Spending time outside is beneficial for both physical and mental health and helps reduce stress and increase overall well-being. Outdoor spaces have become increasingly important — and we were reminded of their importance regularly — over the past year. Our communities sought places to move, roam, adventure, exercise, play and be together while staying physically distanced. The past year also revealed that when we're all outside, we need more parks, playgrounds and recreation areas to accommodate everyone and allow people of all ages and abilities to experience the benefits of outdoor play.
The benefits of creating more outdoor spaces are vast and range from child development and intergenerational engagement to better community health and increased home values. We know children develop through play, and that when they play, their development is child-directed and based in fun. Through play, children learn social, emotional, cognitive and communication skills while developing physically and learning to solve problems creatively. These are all important skills that they will learn now and build on for the future.
Adults and children can develop together through play, too. Intergenerational engagement strengthens communities and brings generations together for healthy and meaningful activities. Outdoor fitness is a great way to engage people of all ages in a healthy and fun activity — and an effective form of outdoor fitness is an obstacle course. Obstacle courses create a fun way for kids, families and communities to exercise and play at the same time, and the best ones are designed with different levels of fitness in mind to get everyone a workout they are comfortable with and still challenge them to do more.
Obstacle courses speak to our desire to compete against ourselves and others and have worked their way into popular culture with television programs and events that tap into that popularity. Everyone from fitness beginners to fitness experts can exercise at their own level on the same equipment using simple modifications and/or different approaches. For example, plyometric jumps are a more difficult exercise than toe touches or step-ups, yet all three can be accomplished using a simple plyometric block that is part of an obstacle course. Adding push-ups or burpees before or after an event is another way to increase the difficulty and add cardiovascular and strength challenges. Part of what is so endearing about these courses is that people can be creative and tailor a workout or type of play that challenges them!
The health and wellness of a community are impacted by the number of recreation spaces within that community. Research shows that active communities have healthier outcomes. Obesity rates are 10 percent lower, people smoke less, 18 percent fewer residents have high blood pressure and even graduation rates are higher. The communities with increased scores spend $20 or more per resident on parks and recreation areas and see the benefit of increased property values. They also attract tourists, businesses, festivals, conventions and other events to the area while giving their residents an increased quality of life and making their communities better places to live and work.
Sometimes it takes a new approach to see what we can improve upon and what we need. Spending time outside is what's always there, even when things are uncertain and changing — especially when things are uncertain and changing. Play, playgrounds and recreation areas remain crucial to both personal and community development and we need more of them. With a new year upon us, let's plan to explore even more and advocate for the spaces that are always there for us.
Sarah Lisiecki is a Marketing Communications Specialist for BCI Burke. Sarah combines a passion for play, the outdoors and movement with years of marketing and speaking experience. She studied Communications and Political Science at University of Wisconsin – Eau Claire, holds numerous fitness instructor certifications and obtained her Certified Playground Safety Inspector (CPSI) certification. As an advocate for play as a critical part of development, she serves on the Steering Committee of the US Play Coalition and presents at a variety of conferences, Lunch and Learns, and other events. She spends her spare time hiking, running, biking and climbing with loved ones and of course, her three rescue dogs.